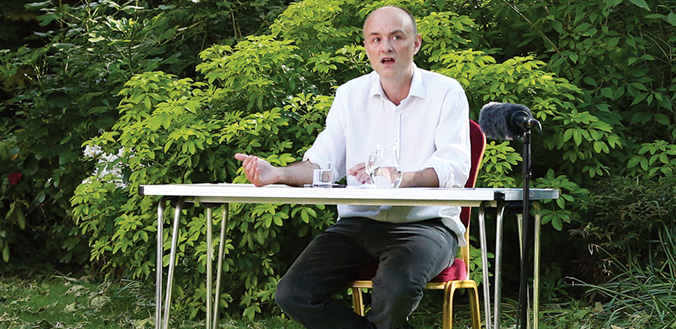 The Prime Minister's Press Conference
Live half an hour late from the Rose Garden of Number Ten Downing Street, Issue 1523
(Enter the Prime Minister, smartly dressed in scruffy white shirt and baggy jeans, sitting behind picnic table, as if conducting job interview…)
Dominic Cummings:
I've been asked to give a statement. So here it is. "I did nothing wrong. The media are to blame. I have no regrets. Now fuck off." Oh no, I was told to cut that last bit. Right, that's it. Any questions? Oh, no, hang on, it's not that bit yet. I've got to read you this very, very long and plausible alibi involving my desperately ill wife, my vulnerable child, a terror threat to my home, my elderly parents and selfless nieces, my tragic loss of eyesight, bluebells, toilet stops, historic landmarks and an invasion by aliens. Oh no, we agreed to drop the aliens as they sounded too plausible. Anyway, on March 27th I did nothing wrong. On March 28th I made the decision to do nothing wrong again. For the next nine days I did nothing wrong. Once or twice during that time period I may have done nothing wrong. I continued to do nothing wrong until April 12th, when we decided it was time to do nothing wrong…
(Cummings continues for nearly an hour, using humble, sincere voice that no one has ever heard before…)
Cummings: Right, that's it. End of. Anyone from the media want to defend why they misreported all of this and whipped up public sentiment against me when I did nothing wrong? Laura from the BBC? Still existing, is it?...