A gov supreme
Court Circular , Issue 1506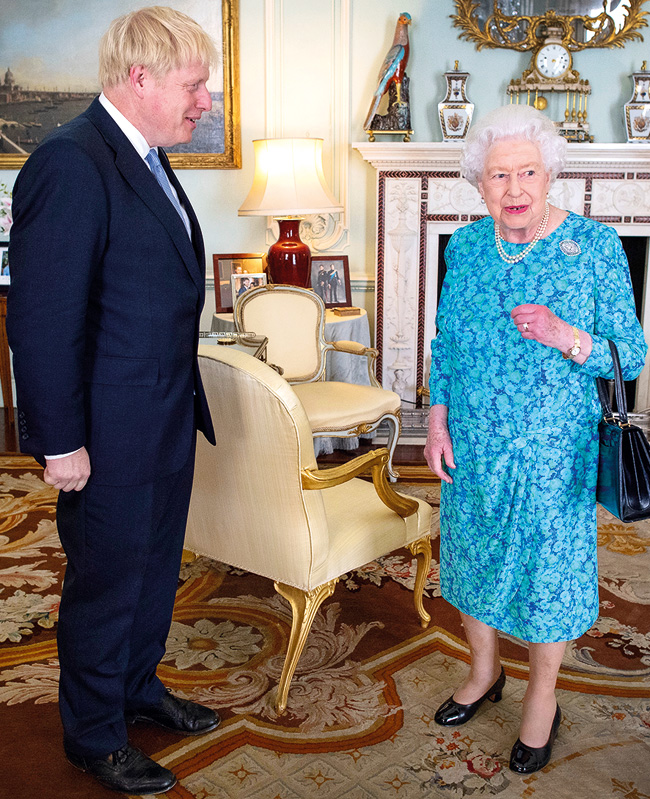 AS BRENDA, Baroness Hale of Richmond, was rendering another Brenda a constitutional footnote, the monarch was busy elsewhere. So convinced was the Queen that her commands are inviolable that she didn't even bother to tune in to the supreme court judgment. Her senior officials, gathered around the television, were not so convinced.
"Trust the prime minister," a Number 10 bigwig had assured the Queen's private secretary, Edward Young. That was enough to send him rushing for the regal legal eagles. So they had been warned that the government had made such a hash of presenting its case, and thus defending the monarch, that anything was now possible.
Power shift
When Number One Brenda was finally informed of the other Brenda's judgment at the daily 11am briefing, residents of Royal Deeside might have heard a small explosion. At worst courtiers thought Johnson would be found guilty of fibbing to Her Majesty, who would then be required to sign some document reinstating parliament or, possibly, head to London for an emergency state opening.
But having to tell Brenda R that Brenda H had ruled that her proroguing of parliament was "unlawful, null and of no effect" and that power to recall lay with John Bercow was not much easier. Let alone that Hale also said the documents signed by the monarch "in her own hand" were as meaningless as "a blank piece of paper". According to the judgment, neither prorogation nor royal assent are a "proceeding in parliament", which effectively discounts the principle that the monarch is integral to it.
Call of duty
Johnson's phone call with Brenda later on Judgment Day was similarly perplexing. He had part-blustered, part-charmed Brenda into believing his vision of a prorogational paradise and presented her with legal opinions to back up his case. But lawyers can be found to argue black is white if someone is paying them to.
Brenda bowed to Johnson's demands because she had no choice. But it is the job of prime ministers to protect a monarch who has no voice, and that is what Johnson failed to do. Worse, he didn't even try very hard.
The palace had assumed that Johnson's phone call, with officials listening in on both sides, would consist of an apology and a request that she return to London to accept his resignation. But no. Despite briefings to the contrary from Downing Street, Johnson merely told her he "deeply and sincerely" regretted the supreme court's decision… and that was it.
New order
Things look set to change now that the Supremes have sung. The palace will not indulge Johnson so readily in future. A normal state opening of parliament this month has been made almost impossible: what if Lady Hale and her colleagues were to conclude that the Queen's Speech, too, was written in invisible ink?
Private audiences between Brenda and Johnson may become not so private, with suggestions they should be recorded in some form and stored in the archives just in case. And it is possible that a very reluctant Brenda might be talked into using her untested reserve powers to act in a crisis by dissolving parliament or sacking the prime minister.
Brian may well welcome this rubbishing of the royal brand as justification to do things differently when his time eventually comes. That's assuming that Brenda Hale, her heirs and successors, haven't confiscated his crown.
More top stories in the latest issue:
COOK-ING THE BOOKS
Thomas Cook's collapse poses difficult questions for Britain's flailing beancounters, who didn't raise eyebrows over its debts until May this year.
BANKS ACCOUNTS
In concluding that Arron Banks had not broken electoral law, the National Crime Agency overlooked another question of legality: the accounting.
CRASH AND EARN
Former chancellors and top former Treasury civil servants are catching up with the Eye's concerns over Tory backers profiting from Brexit-induced turmoil.
BORIS BUS BUST
The demise of Wrightbus, manufacturer of the "Boris bus", after a drop in orders and controversial donations of £15m to an evangelical church
LORDLY PRESUMPTION
Why retired supreme court judge Lord Sumption has been giving his opinions on the proroguing of parliament to many broadcasters and newspapers.
CHEAP SHOTS
The attack on Aramco's refinery in Saudi Arabia, using around ten drones each costing just £20,000, could have long-term effects on military planning.