Mr Johnson's speech
Issue 1501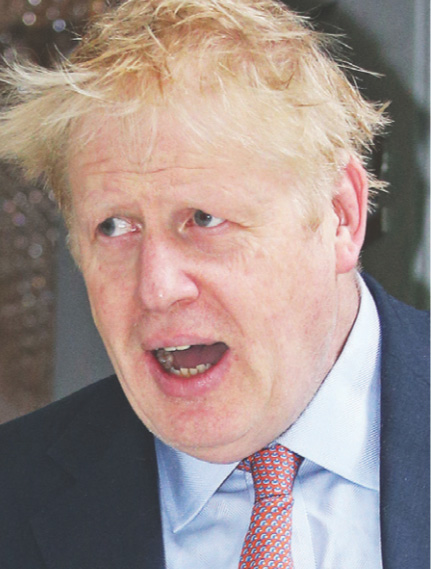 Mr Johnson's speech Now! Good evening – or is it afternoon? Details, details, who cares? What matters is the big picture. And the big picture is going to be of me, the new Headmaster, painted in oils and hung right here, posing in a Headmasterly way with a kipper in my hand. Calm down, Larry! The cat vote is in the bag!
Now, the doom-mongers and naysayers will tell us that all I've got to offer is optimism and that optimism won't work. How pessimistic can you get? That's defeatism, pure and simple and I'm having none of it.
As I was saying to Mandy, sorry Carrie, details details, just the other day, or was it ten years ago? Or perhaps never, knowing me. I'm optimistic about optimism. I see optimism in this great school of ours growing year on year until it becomes a zeppelin-sized balloon full of hope, which is not going to explode in a giant ball of Hindenburgian flame, but no, is going to rise majestically into the air and go round the world, like Phineas Fogg, in 80 days, no 40, make it ten – minutes! A man buoyed up by hot air, selling crisps to every other school in the world, without any tariffs whatsoever. Because that's what this school needs. Aspiration, ambition and er... er... alliteration!!!
At this point, many of the Governors were on their feet – no small achievement, given an average age of 94 – cheering, laughing and being stretchered out by volunteers from the St John Ambulance service. But Mr Johnson was not finished..
So, as the noble Roman, Brutus Johnson, said, with the body of his knifed predecessor at his feet: "I come not to praise Theresa but to bury her." Wasn't she grim, folks? And don't you feel your spirits rise and heart sing at the sight of a man with a smoked herring in his hand? Yes, it's a bit fishy, but it's a lot of fun! And there's plenty more fish in the sea – as I said to Jackie, sorry, Carrie, details details…
Mr Johnson finally had to stop, as he was carried out of the Assembly hall on the shoulders of delighted Governors on their mobility scooters, singing "For he's a jolly good fellow – OK, he isn't any good, but he is quite jolly and, boy, do we need that right now". Mr Hunt then addressed an empty room for two and a half hours…