Those councils of despair in full…
Rotten Borough Awards 2020 , Issue 1538
FROM pothole consultants to payoffs, it's been another year of municipal excess. Find out if your local authority has scooped one of Lord Gnome's prestigious new year gongs…
GOING FOR BROKE AWARD
As councils found themselves increasingly starved of funds by central government, many looked for ways to make money on the side. Trouble is, local authorities are not full of people with experience running office rentals, house building, shopping centres, solar farms or – very fashionable this one – "social energy" companies, so commercial successes were thin on the ground.
Labour Croydon council, with debts of £1.5bn, is the only authority actually to go bust in 2020, and therefore gets the gong, following the collapse of its wholly-owned house building company Brick by Brick. BxB proved very good at losing money (it owes the council at least £110m in unpaid capital and interest on loans) but not so great at building stuff.
Who's next? Tory Cambridgeshire county council is in very dangerous territory, for similar reasons. It, too, set up its own house-building company, This Land, in 2016. This Land has not only turned no profit, but has found itself unable to keep up with its loans from CCC.
Nottingham city council admitted its £1.1bn debts – invested in commercial property speculation and the disastrous Robin Hood Energy scheme – were "unsustainable". A report in November said it was likely to be unable to balance the books in time to set a budget for 2021-22, which would make issuing a Croydon-style "section 114" notice (in effect a declaration of bankruptcy) inevitable.
Eye 1537 reported that Labour Warrington has debts of at least £1.6bn. Some estimates put the figure even higher, at more than £2bn. After Bristol city council's basket case "social energy" company, Bristol Energy, went bust, Warrington's own version, Together Energy, astutely bought it.
One to watch: Tory Thurrock council, another authority with debts of more £1bn, has invested £600m-plus in solar energy projects. As Eye 1523 observed: "What happens when the sun don't shine ain't clear."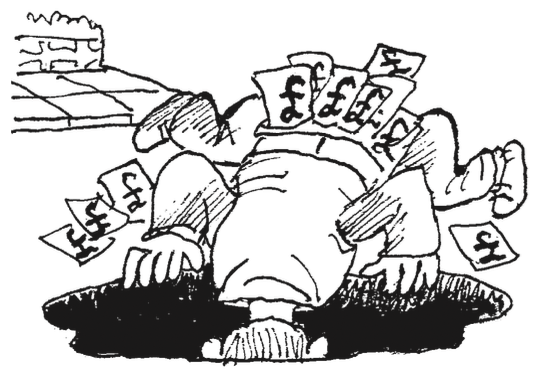 CONSULTANT OF THE YEAR
Shropshire council appointed a consultant on £1,000 a day to "look into" the problem of potholes.

ALL ABOUT ME AWARD
The March edition of The Newham mag, the "town hall Pravda" published by the London borough of Newham, featured 17 photographs of elected mayor Rokhsana Fiaz, whose thoughts were reported in 10 articles.

BLACK LIVES MATTER AWARD
A Southwark resident who complained to Labour councillor Richard Leeming about what he regarded as "fanciful ideas of traffic flow improvement" caused by a "low traffic neighbourhood" scheme was astonished to get a lecture on "systemic racism" and to be berated for "offensive" and "unacceptable" behaviour because he had (perfectly politely) mentioned the project manager involved… who happened to have an African-sounding name.

WOKIER THAN THOU AWARD
James Steel, a Lib Dem member of Guildford borough council, declared that the town's museum must be "decolonised" and purged of any artefacts associated with imperialism, slavery and whatnot. This baffled curators, because the collection's 100,000 objects all originated in Surrey – the museum being devoted to local history.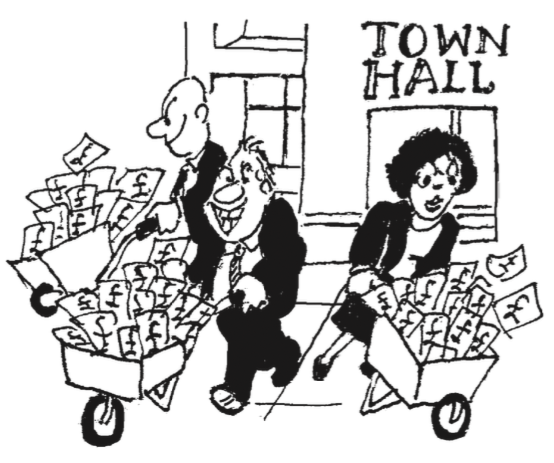 PAYOFFS OF THE YEAR
As the months tick down slowly towards the government's promised £95,000 cap on public sector "golden goodbyes" – supposedly coming into force next year – local authority bigwigs are still exiting town halls with wheelbarrows groaning with loot.
At North Norfolk district council, the exit package for "joint head of paid service" Nick Baker totalled just shy of £389,000, including pension payments. To put things in perspective, that was £89,000 more than the council spent on buying properties to house the homeless in 2019/20.
Boston borough council in Lincolnshire said goodbye to its chief executive Phil Drury with a magnificent £443,998 – even more than that of metropolitan Croydon's former chief exec Jo "Negreedy" Negrini, whose £440,000 golden handshake outraged local taxpayers in September.
Haringey's axed "director of regeneration", Helen Fisher, got a £340,000 redundancy package, including £250,000 in her pension, after just four years' service.
The man who trousered an even bigger jackpot than any of these, however, was Highland council's William Gilfinnan, who retired from a directorship following a "restructuring" exercise. With 20 years service he walked away with a monster £475,000 payoff. He actually left in 2019 but the size of his package was not revealed until last year.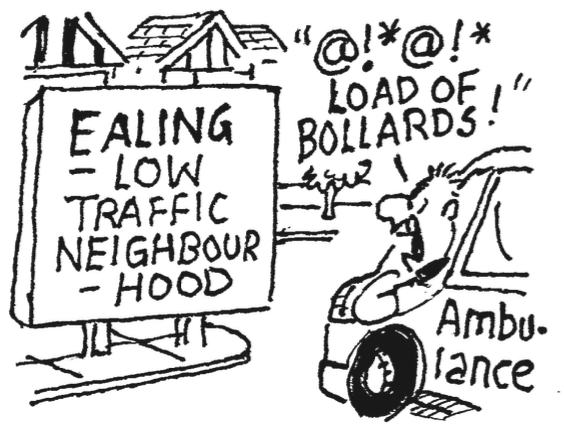 999 AWARD
Ealing council set up "low traffic neighbourhood", blocking off many roads with planters and bollards, but neglected to consult the London Ambulance Service, who were very annoyed.

CURSE OF GNOME
David Hymers, former Tory cabinet member for economic development at Eden district council in Cumbria, who in 2016 was exposed by the Eye for attending a Buckingham Palace garden party after his company had gone bust with debts of £2.5m, including £400,000 owed to HMRC, had his MBE "for services to industry" taken away on the same day the Queen stripped rapist film producer Harvey Weinstein of his CBE.

BRASS-NECKED COUNCILLOR OF THE YEAR
The award inevitably goes to Alan Donnelly, the former Aberdeen Tory convicted a year ago of sexually assaulting a waiter at a council dinner, who hangs on at the city council as an "Independent", drawing a generous salary and expenses. With no prison sentence, no shame and no remorse he can carry on doing so until he faces re-election in 2022.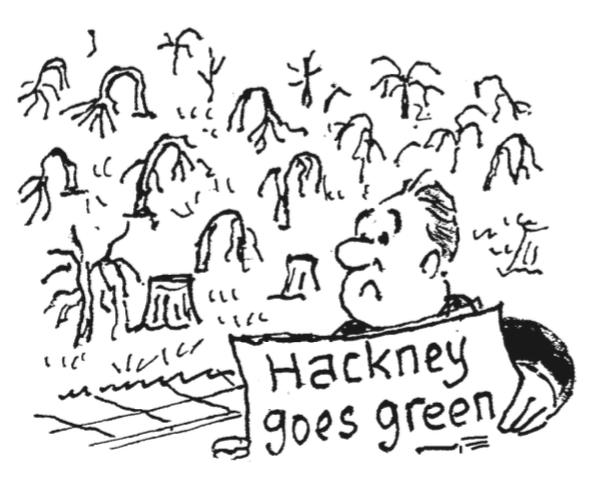 PLANET SAVIOURS OF THE YEAR
In February and March Hackney council planted 10,000 trees on Hackney Marshes, half of which were meant to form an "edible forest" of hazel, walnut and crab apple. Alas by October some 70 percent had died because they weren't cared for properly.

HOPE SPRINGS ETERNAL AWARD
Anthony O'Sullivan, former chief exec of Caerphilly council, is not a man to give up easily. Sacked a year ago after a six-year suspension on full pay over a pay rise deemed unlawful by auditors, he is taking the council to an employment tribunal.

FIGHTING COVID AWARD
When a new "pre-booked appointments only" testing centre was set up in the London borough of Enfield, council cabinet member for public health Alev Cazimoglu tipped off Labour members that they could get tested ahead of lesser mortals simply by flashing their council ID cards.

ON YOUR BIKE AWARD
Tory North East Lincolnshire council, in partnership with a local charity, provided 30 bicycles to Grimsby job centre to "allow claimants the opportunity to move into employment". Former employment secretary Norman Tebbit is believed to be chuffed.

DIGITAL PIONEERS AWARD
To Ealing council, which stopped issuing paper parking permits – and also stopped sending reminders when permits were about to expire. Result: an explosion in parking tickets for people who had unwittingly not renewed their permits… and the issuing of 3,000 refunds by the shame-faced council.

THOUGHT THAT COUNTS AWARD
Because of Coronavirus Warwick district council had to cancel a referendum planned for May on whether to raise council tax to create a special climate change fund. This had the double benefit of enabling the council to look virtuous while saving the embarrassment of the proposal being rejected.

GERRYMANDERING AWARD
Damian White, leader of Havering council, was recorded in July telling Tory chums that council chief executive Andrew Blake-Herbert had let him "influence" electoral boundary proposals so they were "really politically advantageous". Cllr White threatened to sue anyone who suggested this was "corrupt", so the Eye had to reach for some other adjectives: bent, crooked, deceitful, despicable, dishonest, dodgy, shady and unscrupulous.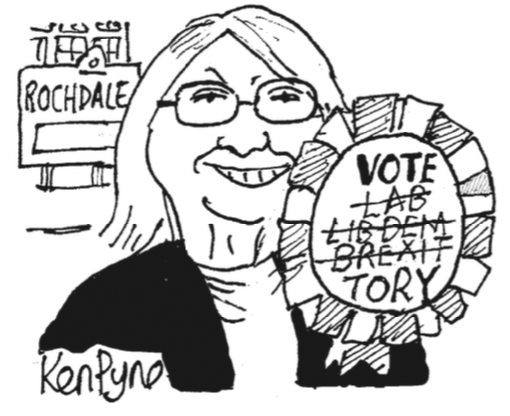 TURNCOAT OF THE YEAR
Elected as a Labour member of Rochdale borough council in 2014, Kath Nickson switched to the Lib Dems early in 2019 before moving on to the Brexit Party. In 2020 she quit the Brexiteers and sat as an Independent for a while, before deciding in the summer that her true home was with the Tories. Surely time for her to give the Greens a go?
Next issue on sale:
19th January 2021
This website is updated on the Friday after a new issue is released.
You can subscribe here and have the magazine delivered to your home every fortnight.