Claim and chaos on campus
Universities, Issue 1532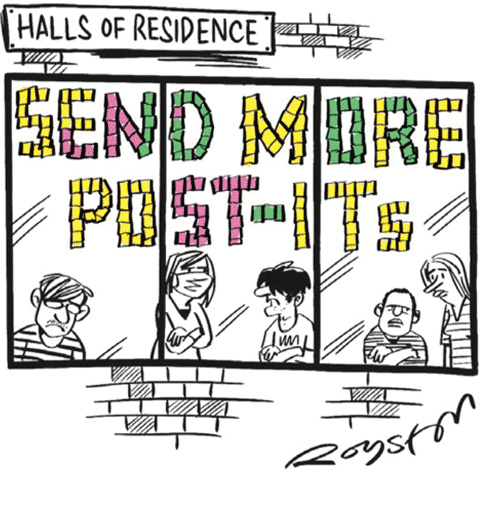 "You can truly expect some incredible experiences along the way… What I loved about MMU was just how busy it was. There was always something going on or something to get involved with… It was just a really fun place to be… You're going to have a great time."
– Welcome video sent to students who got a place at Manchester Metropolitan University in August.
Fact: Students in the university's Birley and Cambridge Halls were forced into 14-day self-isolation with no notice – some only learnt of the measures when security prevented them from leaving the building.
"Of course, if you want to meet your other friends, our large green spaces mean you can be together even at a distance. We know how important Freshers' Week is. You can look forward to a full programme of exciting welcome events and activities." – University of Exeter welcome video, sent to new students before their arrival.
Fact: Exeter students faced a 14-day "soft lockdown" from 28 September. They were asked not to meet anyone from outside their households, other than for study, work or organised sport. Freshers' activities consisted of an online quiz, a Netflix Party viewing and the opportunity to email student societies for more information.
"We're proud of our world-class campus and all our facilities and thanks to Northern Ireland's unique circumstances and response to the pandemic, we will be open for students from 21 September. To facilitate campus life as close to normal, we're applying all relevant social distancing and hygiene measures to assure the safety of our students following the latest public health advice." – Queens University Belfast "Life on Campus" welcome pack for new students.
Fact: Several accommodation halls have been in self-isolation and the university tried to charge students £210 each for food packages (which local media valued at just £55).
"With a blended approach to teaching in the first semester there will be fewer people on campus than usual and our spaces will be reconfigured to support physical distancing, enhanced hygiene protocols and the use of tech to support NHS Scotland's Test and Protect contact tracing system." – Joint principals' statement on Covid Security from Abertay University in Dundee, before term began.
Fact: Hundreds of students were forced to self-isolate in privately run student accommodation Parker House and the university's own Meadowside Halls.
"Like all organisations up and down the country, we have been working hard to make our Universities as Covid-secure as possible." – Joint message from vice-chancellors of Northumbria and Newcastle universities, 17 September
Fact: 770 students in a variety of student and non-student accommodation have tested positive for the virus. They, their flatmates and other close contacts are in self-isolation.
"The message is clear – the University is very much open and we're delighted to be welcoming our students to campus… Throughout the University's campuses, we've implemented one way systems through buildings to ensure social distancing, cleaning regimes have been escalated, and we're adopting a hybrid mix of both online and face-to-face teaching sessions." – Liverpool Hope's pro vice-chancellor for student life and learning, Dr Penny Haughan, before term began.
Fact: All teaching other than on courses involving lab work in specialist facilities is moved online from 23 September, after students had arrived, to be reviewed in November. Meanwhile all partying, on or off campus, is forbidden.
More top stories in the latest issue:
COUPE DE GRACE
The chumocracy rules as ex-Sainsbury's boss Mike Couple lands a job running Covid testing under his former colleague, Baroness (Dido) Harding.
EYE TOLD YOU SO…
The Post Office decision not to contest appeals by 44 sub-postmasters for theft and false-accounting vindicates a decade-long campaign chronicled by the Eye.
FLIGHT STIMULATOR
Richard Branson basks in Virgin Atlantic's involvement flying PPE in from China… but is too coy to mention the many millions it earned for doing so.
SUPERMARKET SWIPE
Sainsbury's boasts that it won't tolerate racism – a message it should send its major shareholder Qatar, which is accused of "structural racial discrimination".
EARLY ADVENT…
As the Eye predicted back in January, strategic UK defence supplier Cobham is already being broken up by its new US private equity owner, Advent.
CHARGE SHEET
The rates consultancy firms charge the government for helping with the Covid crisis are eye-wateringly astronomic, figures seen by the Eye show.
PRIVATE INEQUITY
Rishi Sunak may have shown his true political colours in a "winter economy plan" that could be good news for private equity's financial engineers.