Sofa, So Bad
Toxic Chemicals, Issue 1497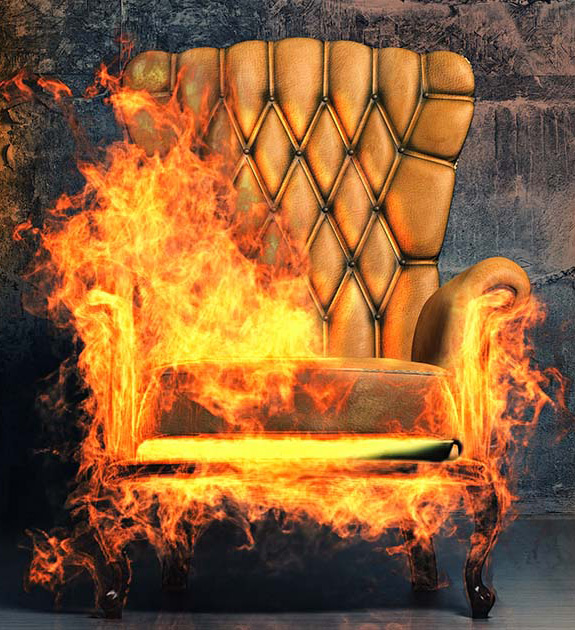 Soft furnishings in UK homes are more dangerous in a fire than furniture elsewhere in the EU, a whistleblowing former civil servant has told MPs. Ironically, the extra dangers arise because UK furnishings are treated with more toxic flame retardant chemicals than those in the rest of the EU to comply with UK rules that are now badly out of date and out of step.
Evidence of years of conflict in the Department for Business, Energy and Industrial Strategy (BEIS) over the regulations emerged as MPs on the environmental audit committee began an inquiry into toxic chemicals in everyday life. One of the inquiry's aims is to find out why the Furniture and Furnishings Regulations 1988 (FFR) is still in force, given that a review to reduce the amount of flame retardants in sofas began in 2009. The retardants have been linked to everything from rising rates of thyroid cancer to eye damage. Dust in UK homes has the highest concentration of such chemicals in the world. 
Even firms reluctant to use toxic products are obliged to do so under UK rules. As Therese Lilliebladh, Ikea's product requirements manager, told MPs, Ikea only uses chemical flame retardants on products sold in the UK and Ireland. "For the rest of Europe, Asia and US we do not use any chemical flame retardants as we believe it is possible to produce safe products that are also free from harmful chemicals."
Stymied by colleagues
Business department whistleblower Terry Edge gave evidence on the inquiry's first day. He was lead official responsible for FFR until 2015 and drew up changes to the law's so-called "match test". This is done on upholstery fabric stretched over foam; but, says Edge, it is a poor measure of whether a real sofa will catch light quickly. One reason for this is that anti-stain treatments (often sold with a sofa) can have a "catastrophic effect" on flammability. Most of the EU uses a different "cigarette test". Edge claims his planned changes were stymied by colleagues acting against ministerial instructions.
Prior to the inquiry, committee chair Mary Creagh MP had asked Alex Chisholm, BEIS's permanent secretary, if the department had investigated claims that civil servants had deliberately impeded reforms put forward in a 2014 consultation. (The government has still not responded to that consultation, even though it accepts the current regulations are badly flawed and "need to be updated to respond to developments in furniture design, innovation, manufacturing processes and environmental and health concerns whilst maintaining product safety protections".)
Chisholm refused to give details about civil servants but told Creagh an internal investigation and another by the government's internal audit agency found no evidence of misconduct. 
Render people unconscious within minutes
Edge believes flame retardants can make furniture more deadly. Although fire deaths have reduced since the regulations were introduced, this is mainly due to the decline in smoking and better smoke alarms. Research two years ago showed that, once alight, furniture treated with flame retardants produces smoke laden with carbon monoxide and cyanide that can render people unconscious within minutes. 
Edge says chemical producers and the furniture industry lobbied hard against updating the regulations. The law provides a major market for flame retardant producers and protects UK-based furniture makers from foreign competition. Gareth Simkins, an environmental journalist who has been investigating the regulations for three years, also gave evidence that BEIS was worried about the threat of judicial review from a furniture industry body if it tried to update the rules.
The 1988 regulations are particularly useless as many of the chemicals they were meant to regulate, such as brominated diphenyl ethers, are now banned under UN treaty because of health and environmental hazards. In California, flammability rules were dumped after lobbying from firefighters who had seen a rise in cancers attributed to flame retardant exposure. A further EU ban on neurotoxic organophosphate chemicals in furniture (notably baby mattresses), is in the pipeline. UK regulations, meanwhile, lag far behind the science.
More top stories in the latest issue:
DISORDERLY CONDUCT
Warnings that private probation contractors may cut and run or simply fail, now that they know the service will be brought back in-house from 2021.
SUB-OPTIMAL
The Post Office network is in disarray, with around 2,500 sub-post offices facing closure, postmasters tell MPs.
CORONER IN THE DOCK
Grieving parents were shocked when a coroner concluded that care for their baby had been appropriate and reasonable, despite a hospital report identifying serious failures.
VICIOUS CIRCLE
Private-equity owned health firm fails in its court bid to stop local health trust taking over a lucrative NHS contract.
BOOM OR BUST
London Luton airport seeks to avoid breaching noise limits by, er, applying for a five –year relaxation of the rules.
LATE LATE NEWS
The Grenfell inquiry faces delays as police comb through millions of documents related to the disastrous refurbishment.
RUSKIN RUMPUS
Once a world leading centre of trade union education, Ruskin College is now in dispute with its own staff.
KIN 'ELL
Calls for better regulation of footballer's agents, after conflicts of interest and controversies.
KNACKER'S YARN
How Scotland Yard tried to wriggle out of paying punitive damages to the three men "framed" for the notorious 1987 axe murder of private investigator Daniel Morgan.