Cover stories
Grenfell Inquiry , Issue 1563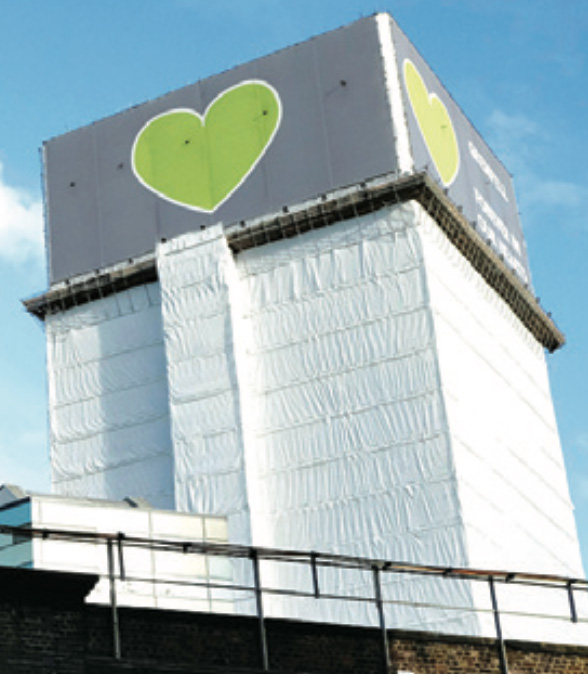 FOUR and a half years after the Grenfell Tower fire, the inquiry has finally got round to investigating the role central government played in the disaster, with lawyers for bereaved and survivors delivering their opening statements last week. The chief allegation is that governments dating back to the 1980s were aware of the risk posed by dangerous cladding and, rather than act to prevent a disaster, actively covered it up.
The first incident was in 1991, when flames ripped through cladding that had been installed on Knowsley Heights in Merseyside with government cash as a pilot. The report into this fire revealed the cladding panels were plastic and combustible, but it was kept private and regulations were not altered. A handwritten memo shows a government insider instructing that it be "played down" (Eye 1552). In 1994, a further report proved cavity barriers were insufficient to stop flame shooting up the chimney between the cladding panels and the insulation. This too was kept for limited circulation.
Testing methodology
A 1999 fire in Garnock Court in Irvine, Ayrshire, also showed the risk of plastic panels. A select committee recommendation to drop an inadequate fire standard was ignored. Perhaps driving the failure to act was the estimated cost of removing dangerous cladding of £500m; today it is closer to £15bn.
This fire did, though, prompt research into a new large-scale testing methodology for cladding systems. One of these tests featured the exact type of cladding material later used on Grenfell. It failed less than six minutes into a 30-minute test. Survivors' lawyers say it "beggars belief" this material was not specifically banned as a result. They point to lobbying, particularly from industry body the Centre for Window and Cladding Technology after the test, which suggested that banning cladding systems would have "economic consequences for the building industry and the UK as a whole".
Then, in 2009, six people were killed when fire spread through panels at Lakanal House in south London (Eyes passim). The London Fire Brigade warned that these panels did not meet minimum standards and were probably in use elsewhere, and suggested notifying housing providers to check for similar risks.
'Deliberate cover-up'
Ministers elected not to do so, with officials said to have emphasised the need to "avoid giving the impression that we believe all buildings of this construction [are] inherently unsafe". The investigation into Lakanal was swiftly wrapped up – a move that one lawyer said "raises the spectre of a deliberate cover-up". Recommendations from the coroner for sprinklers and tougher standards were not implemented.
As the 2010s wore on, officials were repeatedly warned that combustible insulation was being widely used on high-rises with potential safety implications. They reacted by signing off industry guidance that effectively made it easier to do so within the rules.
Lawyers for the survivors pointed to the government's "red tape challenge" and its "unbridled passion for deregulation" in crippling its ability to impose tougher standards. They said it had come to rely on industry to write their own rules. Given this, the government's apology for not properly overseeing council building inspectors felt a tad limited. An apology for abdication of duty over four decades – on behalf of not just the current government but the institution of the British state – would be more fitting.
More top stories in the latest issue:
ALL IN IT TOGETHER
After investing £18m in loss-making firm Together Energy despite the Eye's warnings, Warrington council is now exposed to the tune of £52m.
NO VIRGIN
Richard Branson has pulled out of the UK's health market, with Virgin Care being handed over to venture capitalists Twenty20 Capital.
EYE TOLD YOU SO
A recent Panorama looked at how money is siphoned from care homes to offshore private equity investors – just as the Eye has been reporting for years.
DUCKING SCANDAL
Large companies that cause devastating river pollution are getting away with tiny fines or ducking prosecution altogether by making charitable donations.
NET TIGHTENS...
While the Scottish government supports fish farms, concerns about pollution and the damage to wild salmon populations have led to bans elsewhere.
CREDIT CRUNCH
The government is struggling to get to grips with the problem of criminals using identity theft in order to obtain universal credit payments.
FLATS BROKE
A litigious London property manager is trying to sue two former employees as well as the son of one of his leaseholders. But his timing is not great.
WRITE-OFF WRONGS
More than £30m of debt owed by failing academy trusts and colleges had to be written off last year, to clear the way for takeovers or closure.
MALVERN CHILLS
Another small college faces being wiped out after being taken over by a super-college group, which then declared it unviable and is seeking to sell the site.
NO RESTRAINT
Prosecutors are being forced to review the case of a mentally ill man who died after being held in a chokehold for more than six minutes outside a pub.