Bungs in the bag
Green Eye, Issue 1556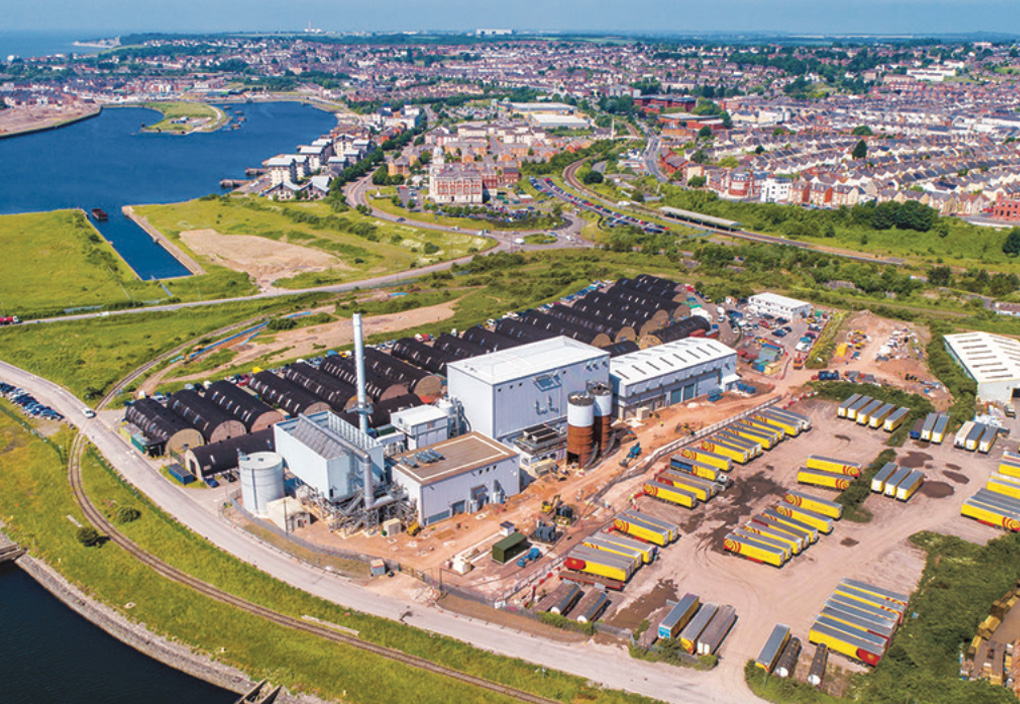 IMPORTANT new developments in the saga of the Barry Docks waste-fuelled generator (Eyes 1491 & 1512), owned by an investment arm of Aviva, writes Old Sparky.
The project has been given extraordinary latitude by the Welsh government, which initially ruled that it didn't need an environmental impact assessment (EIA) for the large and, as it transpired, polluting plant (pictured) located close to housing. Despite this, Aviva failed to meet the commissioning deadline of March 2018 to qualify for large "green" subsidies. The authorities don't seem to care.
By 2018 the botched project was unable to operate on waste-wood fuel as its permits require, so Aviva lamely tried to "commission" using diesel instead, ahead of the deadline. This didn't work either, though it did pollute the Barry air with smoke, dust and noise.
Redesigns and ongoing disputes with contractors followed, but commissioning to the standard required for subsidy did not.
Late review
Three years on, following sustained and cogent protests, the Welsh government has belatedly agreed that an EIA is indeed needed, as was obvious to anyone reading the legislation. Aviva is being allowed to do this retrospectively, without interrupting its continuing tests. Patently, the Welsh government is only concerned to bag subsidies and create jobs, however spurious the pretext (Eyes passim).
Vale of Glamorgan council, however, has finally lost patience. Formal inspections confirmed what was evident to the naked eye: the plant is bigger than in the approved plans, with additional facilities and differently laid out. This month councillors unanimously agreed a discontinuation order to halt activities. They hope to prevent the rogue plant eventually achieving de facto full operational status, when enforcement action would be more difficult.
Toothless watchdog
Where in all this is regulator Ofgem, guardian of the green bungs? It seems to be deeming the plant eligible on the grounds that, er, something (though manifestly not the required commissioning) happened before the 2018 deadline; and planning isn't its concern.
Doubtless it is under the same "jobs-plus- money" pressure as the Welsh government, hoping to railroad unauthorised and non- qualifying developments through on momentum alone. As we wrote in the last issue, when it comes to developments self-identifying as "green", the authorities will increasingly be inclined to cut corners like this.
Who will pay…
A victimless crime? Go-ahead would mean around £150m for unwarranted subsidies slapped on our electricity bills; and Barry residents would be stuck with the plant. If the Welsh government continues giving it the red-carpet treatment, seemingly only the council stands honourably for due process.
More top stories in the latest issue:
CLOSING ARGUMENTS
The boost to social care funding will come too late for the younger disabled people who are losing their homes today because of care home closures.
CREDIT CHECKS
Two severely disabled men short-changed by £180 a month when they were forced to move to universal credit are launching a third high court challenge.
'TOXIC' CYGNET
Two more damning reports show that US-owned Cygnet Health Care has again been failing patients with autism, mental health and learning disabilities.
THE SOLD NICK
Wiltshire's newly elected police and crime commissioner says the lack of a police station in Salisbury after the old one was sold off is "frustrating".
REPEAT OFFENDERS
Lecturers at the University of Exeter are in dispute with their bosses over their rights as performers in recorded teaching content.
BOOKS AND CORNERS
University of East Anglia lecturers have been packing boxes of books to cram into their homes, as crumbling campus buildings force them to share offices.
DRY ROTTERS
Just 21 out of 248 new schools built in England since 2015 have sprinkler systems installed, despite fire safety rules saying they should.
EYE OFF BALL
A charity run by former footballer Stiliyan Petrov has raised more than £450,000, but only 18 percent of that has gone to charitable causes.
WAITING DAME
Changes afoot in Vivienne Westwood's retail empire, with a separate entity that she established in her name in 2018 looking about to become operational.
JUSTIN TIME
A new book about a Christian QC who groomed and abused young men names dozens who knew about his abuse as long ago as 1982 but failed to stop him.