Prime Minister's Questions
Live on Fakebook, Issue 1543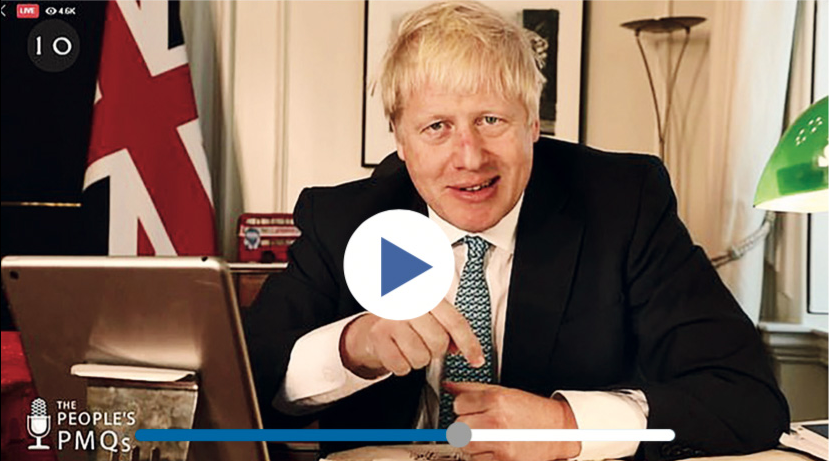 So, folks!
Spring has sprung and with one bound I am free. And all thanks to the fantastically successful rollout of the Royal interview. We're hoping it will reach 94% of the population within a week, meaning I will have total immunity from any scrutiny. Hats off to our wonderful CBS and the hardworking people there on the front line, who've done so much to make it possible.
PM's Press Secretary: Don't forget you've got no comment on this story.
Boris: Quite right, Allegra, what would I know about an Old Etonian having a messy fall-out with his family over his choice of partners? Or being associated with embarrassing racist remarks from the past? Or doing whatever his latest squeeze tells him to do?
PM's Special Adviser: Shut up, Bozza.
Boris: Absolutely, Carrie. No, people with embarrassing fathers should be left alone and it's not up to me to choose sides about people making off-colour remarks.
PM's Press Secretary: That's now "remarks of off-colour'"
Boris: Yes, righty-ho, back on message. Won't ever mention watermelons or piccaninnies again – whoops! So, no comment. This is such a divisive issue that splits the nation. Maybe I should write two pieces, one in favour of Harry, one in favour of the Queen, then hold them up and see which way the wind's blowing. Yes, Megxit's going to be a fantastic success. It's bun-in-the-oven-ready, like the Megster! Just bung it in the microwave and ping! No one's talking about Boris! Now, on with the important issues. Questions from the general public. And as Oprah said "Nothing is off-limits, except everything we agreed is off-limits".
PM's Press Secretary: First caller, Lulu Lytle from the 'I Saw You Coming' redecorating shop in Enfield.
Boris: Wotcha, Lulu, boom bang a bang!
Lulu: Mr Johnson, your bill for £200,000 is now overdue. Thank you for your custom. Lulu Lytle tries to live up to its motto "Never Knowingly Underpriced".
Boris: Cripes! 200 grand for a sofa, Lulu! You make me wanna shout! See what I did there?
Lulu: Just pay the bill...