Innova their heads?
Covid tests , Issue 1539
MEDICS are increasingly raising concerns over the lateral flow Covid tests bought from Innova Medical Group for around £860m. Studies put the rate of false negatives from the tests at perhaps 50 percent and health regulators last week refused to approve them for mass daily testing in schools.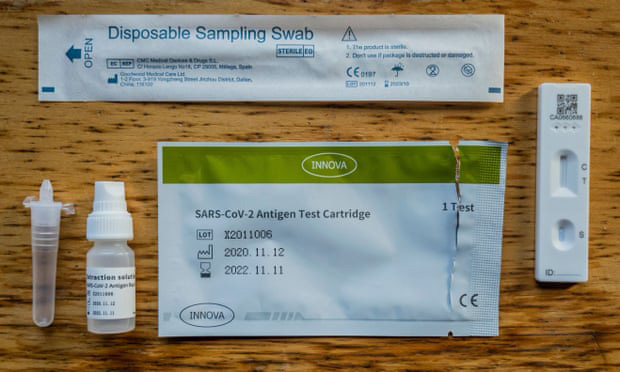 Last week, academics from the universities of Bristol and Birmingham, and a former regional public health director called in the British Medical Journal for a pause on using the Innova test "until clearer messaging on the risks of negative results can be developed". Troublingly, the companies behind the product are continuing to sell them on false numbers.
The Innova tests are punted out in the UK by Disruptive Nanotechnology Ltd, operating as Tried&Tested. It claims its test "has 100 percent specificity [true negative results], 98.98 percent overall accuracy". This is based on data initially put out by Innova that included 96 percent accuracy in identifying positive cases, when the real rate has been shown to be about half that.
Technically insolvent
But then, as Eye 1536 revealed last month, Disruptive Nanotechnology Ltd, run by directors with backgrounds in the shoe and property businesses, isn't steeped in medicine or medical ethics. Since then it has filed its latest accounts, for the period just before the start of the pandemic. The company was even more moribund than previously thought, with assets amounting to £85 and a few debts making it technically insolvent.
Evidently this didn't put off the Hong Kong and LA-based, Las Vegas-registered investment fund behind Innova – whose leader's claim to fame was an abortive deal with scandal-ridden MG Rover 20 years ago – from employing it as UK distributor. The Innova test kits are made by a medical manufacturer in Fujian province in China. Last week the government announced it was also buying lateral flow tests from established UK diagnostic company SureScreen. It can only be hoped they are more accurate than the Innova variety.

Swab Mob
MEANWHILE in the world of polymerase chain reaction (PCR) tests, which unlike the lateral flow tests are accepted to be the global gold standard, an eccentric group in the UK is promising to sue the government for forcing people to self-isolate after positive results that are all supposedly "false". Not surprisingly, this is getting support from the usual suspects on the libertarian right.
Launched in November with a website and Twitter presence, "PCR Claims" says it represents "pro bono lawyers gathering evidence" to launch "the biggest lawsuit against the government ever seen in this country". Via Twitter, that well known repository of scientific wisdom, it has claimed that the widely used PCR test for Covid-19 should not be used because "100 percent of 'cases' are almost certainly false positives"; and it intends to sue the government on behalf of those who have lost income as a consequence. It has also claimed: "If you stop testing tomorrow nothing unusual on any measure available would be happening in the UK."
These claims have gained some support on the right. Before Christmas, Richard Tice, chairman of the Brexit Party (now renamed Reform UK), recommended that his Twitter readers check out PCR Claims; and Toby Young's "Lockdown Sceptics" website has also enthused about PCR Claims', er, claims about the falseness of PCR tests and the (vain) hope for a successful lawsuit.
Who are these legal and scientific experts? They are led by lawyer Jo Rodgers. Among the spokespeople PCR Claims says it has on board is Thomas Binder, a Swiss-based "immunologist, cardiologist" – described by the group as an "outstanding veteran life scientist". On New Year's Day, Binder claimed that "masks make you believe in the presence of an invisible alleged killer virus" and that mass PCR tests are "insane". The group's "most eminent spokespeople" also include Emma Kenny, resident psychologist on ITV's This Morning. What is true is that no test is perfect. We don't yet have a test of infectiousness, so it's impossible to prove who is spreading and who isn't.
More top stories in the latest issue:
RESTARTING THE GRAVY TRAIN…
The £2.9bn Restart scheme to tackle the coming jobs crisis has worrying echoes of the coalition's derided privatised welfare-to-work scheme of 2011.
RUDY AWAKENING
Disgraced insurrectionist Rudy Giuliani, set to be disbarred by the New York Bar Association, holds an honorary UK knighthood – for how much longer?
BOOK OF TRICKS
Facebook may have banned Donald Trump but it's still running ads for military kit and gun holsters next to content that spreads electoral misinformation.
VACCINATING FOR VICTORY
As the UK ramps up vaccine roll-out and tightens border health checks, there's both good news and bad in the UK's battle against Covid-19, writes MD.
CARE TACTICS
The frontline efforts of over 300 Aspire Living care workers are being rewarded with, er, new contracts that will see many work more hours but be worse off.
IN-APP-ROPRIATE
Vaccination centre volunteers are told to sign up via an underwhelming app, even though NHS trusts and volunteer hubs are training people themselves.
T IS FOR TORY
Why Conservative politicians and Telegraph columnists have been fawning over a small pop-up live tuition website based in Kent.
OVER-CHARGE SHEET
PWC's £2.5m contract to build "robust" financial controls for the national PPE inventory reveals how consultants and beancounters are cashing in on Covid.
BTEC BE DAMNED
Government chaos meant FE colleges had to decide for themselves whether to go ahead with BTEC exams and other vocational qualifications in January.