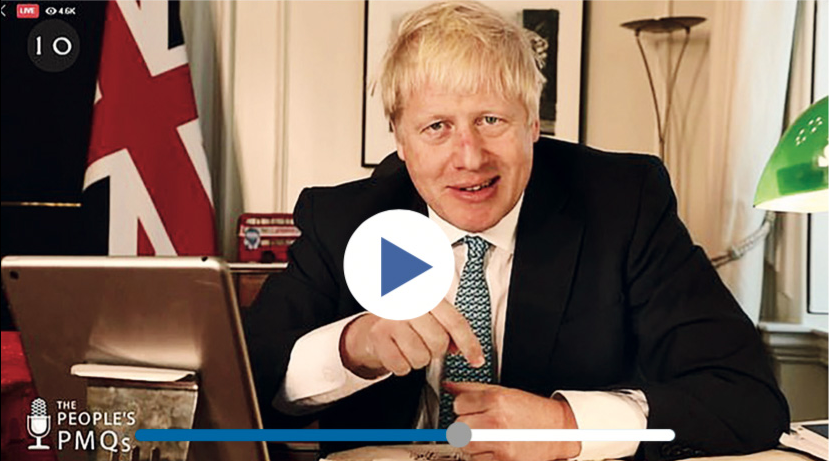 People's Prime Minister's Question Time
Live on Fakebook, Issue 1526
Greetings folks!
I'm back. And I'm back with a major announcement. We've licked the virus – don't do that, by the way, unless you've washed your hands and are sat a metre plus away from your grandparents' neighbours, outside a restaurant, or inside a bubble in a pub, in a group of no more than six or eight, having given your name to a passing lollipop lady working for Group 4 or Serco.
That's enough of that boring science stuff. I didn't get rid of those experts just for me to bang on instead of them. No! I'm here with much better news. Lockdown's over, everything's opening up, including Rishi's wallet and, most important of all, I've had my hair cut, so it now looks immaculately untidy in a popular, spontaneous, too-busyto-worry-about-my-hair kind of way.
So, let's get on with the questions. And thank God they're not from those awful pedantic journos, wanting answers to questions as if I was the Prime Minister or something. Keir Starmer takes the same unhelpful attitude. Who does he think he is, leader of the Opposition?
So, let's have some constructive, helpful and hopefully imaginary questioners, hand-picked as ever by the Domster, who's still here. So move on, because he's not. First up, is Genny Ewin. And your question is:
Why are people so angry about you blaming the care homes, when it was quite obvious to anyone you did nothing of the sort?
Cripes, tough one to start with. Well thank you, Genny, and I think you've put your finger on it. I didn't blame anyone. I just said it was the care homes' fault…