The Eye's New Year Honours
Rewards for failure, Issue 1513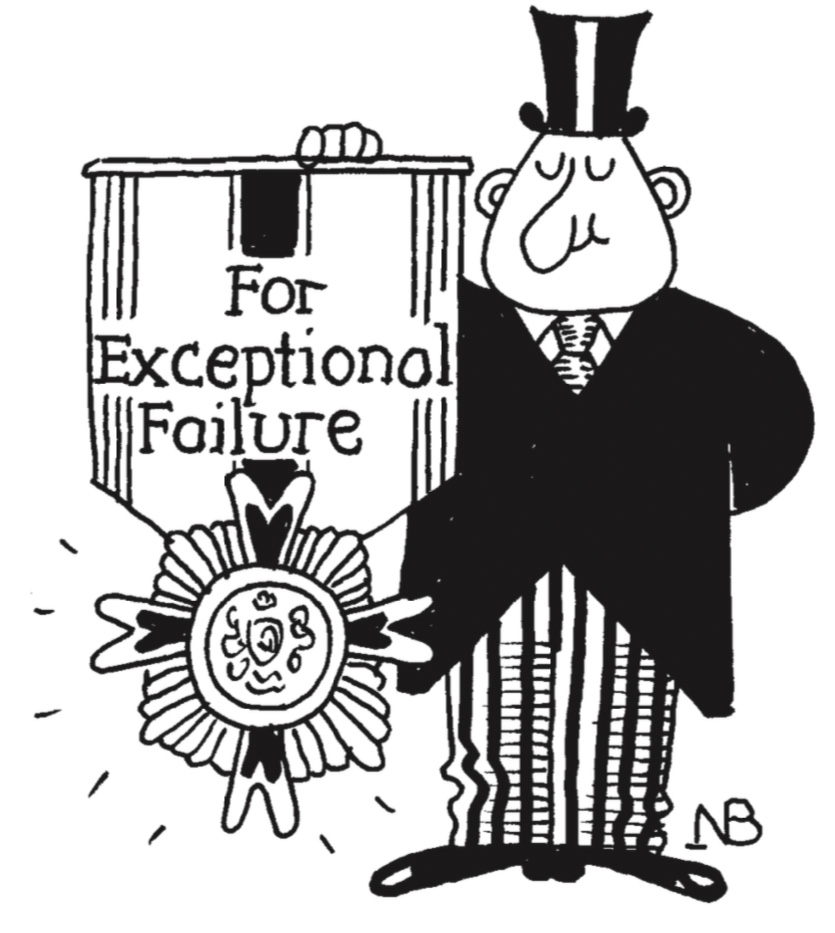 THE government says the new year honours recognise "outstanding achievements" from a "wide range of extraordinary people". Really?
Those extraordinary people include Iain Duncan Smith, who as work and pensions secretary was responsible for "welfare reforms" that have squeezed the poor and disabled. News of his knighthood prompted hundreds of thousands of signatures on a petition calling for it to be cancelled. But IDS wasn't the only person rewarded for "achievements" that look less than "outstanding"…

Whitehall farce
Days before Boris Johnson's weirdo factotum Dominic Cummings announced a drastic shake-up of Whitehall and an end to all the stale old ways, the first honours list of Johnson's premiership (albeit drawn up and approved under Theresa May) includes the usual share of time-serving mandarins who can't make do with just promotions and pay rises.
Amid stiff competition, the knighthood for John Manzoni stood out for its sheer brass neck and unfortunate timing. Manzoni, civil service chief executive since 2015, is responsible for the smooth and effective operation of government – which might be expected to mean not putting the private addresses of around 1,000 honours recipients online, as happened on 27 December.
He was brought in from the oil industry in 2014 to run the government's Major Projects Authority and remains responsible for big-ticket deals such as, er, the vastly over-budget Crossrail, HS2 and Hinkley Point C nuclear plant. Manzoni's career before Whitehall wasn't exactly gong-worthy either. He was head of refining and marketing at BP when it was responsible for the 2005 Texas City refinery explosion that killed 15 people. The company's own report found he failed to get to grips with technical issues despite having been "given significant messages about the safety risks at Texas City".
Joining Manzoni in bagging a curiously timed knighthood is the head of the government's legal profession, Jonathan Jones QC. The government's legal position on recent matters such as proroguing parliament and imposing a bedroom tax on partners of severely disabled people has been found severely wanting. And that's without mentioning the other major Brexit-related defeat in 2017 over the triggering of Article 50.

Party favours
For once, most of the political honours go to party hacks and hangers-on rather than donors. There's an OBE for Zoe Thorogood, who recently quit as Conservative party chief of staff to become a senior director of the corporate lobbyist APCO Worldwide, much criticised in the past three years for its PR offensive on behalf of the Egyptian and Saudi regimes. Dr Colin Currie, consultant in geriatric medicine, collects a CBE "for charitable and political services". He just happens to have been a decades-long moonlighter as speechwriter for his old university friend Gordon Brown.

Wonky logic
No fewer than four Department for Transport (DafT) mandarins receive honours. Graham Pendlebury (director of local transport) is now a CBE and Andrea Pearson (head of international rail) an OBE, while there are MBEs for Amanda Lane ("team leader") and Margaret Timmins (head of DafT's "Northern and Transport for the North Engagement Team"). That tally seems remarkably high for a department that wasted so much public cash and caused so much hassle for travellers in the three years that Chris Grayling was transport secretary. But no doubt the mandarins deserve their gongs simply for putting up with Grayling for so long.
Melanie Dawes, permanent secretary at the Ministry of Housing, Communities and Local Government, gets a damehood. In 2017 she was asked by MPs if the housing crisis would "never resolve itself" under current policies. She agreed, saying the crisis "will continue as it has done for decades, I agree, and that will show itself primarily in affordability and in some places in homelessness". Last April she told MPs the department did not have "all the ingredients" it needed to hit its target of 300,000 new homes by 2025. A damehood for honesty rather than effectiveness? Meanwhile, Dame Mel is leaving the department to become chief executive of telecoms regulator Ofcom.
Richard Las, deputy director in charge of tax evasion and fraud at HM Revenue & Customs, becomes a CBE. In 2018 the Times reported his comments at an economic crime conference, where Las appeared to admit the taxman allows the rich and powerful to escape prosecution for financial crimes in return for settlements. "When deciding whether to deploy our resources, we try to understand what motivates different types of offenders," he said. "For example, some tax offenders are very wealthy, prominent members of the community", and "we know that these types of people do not want the reputational damage of custodial sentences, and we can use that to our advantage."

Appliance of science
Privatisation is recognised in the honours, with Caroline Hargrove, chief technology officer for health privatiser Babylon Health, becoming a CBE. Babylon wants the NHS to use its online GP "visits" and diagnostic "apps", or failing that wants well-off patients frustrated with the NHS to switch to its digital GP services. Critics say Babylon costs the NHS too much, and its algorithms can't be trusted to diagnose serious illnesses. However, health secretary Matt Hancock has relentlessly promoted the firm.
Tim Robinson, chief executive of LGC (the privatised government chemist), becomes a CBE for services to digital technology. Not mentioned in his citation is his role in flogging off a large chunk of forensic science work that his company had acquired (before he joined it) when the Forensic Science Service was disastrously privatised in 2011 (Eyes passim). In 2017 Robinson sold on the business to Luxembourg-based group Eurofins. Last year, describing "a forensic science market which is becoming dysfunctional", a House of Lords inquiry cited the change as part of the reason for instability in the market.

Regulation misbehaviour
A CBE for services to gender equality in business goes to Elizabeth Fagan, chair of Boots UK and of the Incorporated Society of British Advertisers (ISBA), the lobby group for consumer firms that rely heavily on advertising. With her Boots hat on, Fagan has declared: "Healthcare is at the heart of everything we do." But the ISBA seems more keen on deregulation than health: one of its priorities is lobbying the government to abandon anti-obesity plans for a 9pm watershed on ads for fatty, salty and sugary foods.

Career lows
Two gongs are handed out for careers advice – a CBE to the chair of the "ludicrously wasteful" Careers and Enterprise Company (CEC) and an OBE to the head of the ineffective National Careers Service (NCS).
As well as being chair of management consultancy Capgemini UK, Christine Hodgson has presided over the CEC as chair since it was launched in 2014. In 2018 it was lambasted by MPs on the education committee for its ludicrous spending, including big salaries at the top and spending almost £1m on research instead of frontline guidance for learners. It was supposed to become self-sustaining, but by mid-2019 it had to go cap in hand to the government for an extra £24m (Eye 1496). A progress report last September showed that hundreds of schools still don't meet even one of the eight careers targets.
Louise Proctor has been head of the NCS, which provides work and training advice to adults, since 2012. In 2017 a government-commissioned report could not find "any positive impact" on getting young people into work or off benefits. Clearly providing pisspoor advice is no obstacle to an OBE!

Bankers' bonuses
While the UK's economy continues to stagnate, at least the recession in gongs for bankers is lifting. Ross McEwan, outgoing chief exec of RBS, becomes a CBE. He got the top job at RBS in 2013, well after the main sins at the bank had been committed. However, he appeared to cover up some dark faults, not least the way the bank's global restructuring group (GRG) had forced small businesses to the wall so it could take and sell their assets and boost profits. When the treasury committee looked into RBS's GRG, chair Nicky Morgan attacked McEwan for withholding "information of relevance and interest to the committee". She added that the committee "expects clarity and openness from witnesses, and Mr McEwan's evidence fell short of that standard".
Peter Estlin, former lord mayor of London, is knighted "for services to international business, inclusion and skills". He was also a very senior banker at Barclays – financial controller from 2008-10, CFO of retail banking (home of the PPI scandal) from 2010-12, and a senior adviser until 2019 – meaning he had top management positions while various financial scandals were developing there.

Council collection
Veteran Cardiff councillor and Eye favourite Russell Goodway has been made an OBE for "services to local government". Back in 2000 Goodway became, for a while, Britain's highest-paid council leader, after he accepted a whopping rise in allowances which took him to £58,000 for a three-day week, plus another £30,000 in backdated pay – earning him the sobriquet "Goodwage" (Eye 1000). Alas, after protests from fellow Labour councillors and the public, Goodwage's allowance was slashed to £35,000 by the Welsh Assembly.
Eight Labour councillors who had questioned the propriety of Goodwage's massive rise were hauled before a seven-hour group meeting and subjected to Soviet-style denunciations before having the Labour whip withdrawn for periods of up to two months, while two lost lucrative allowances of their own by being kicked off committee posts as Goodwage took his revenge. Leeds city council chief executive Tom Riordan becomes a CBE, also for "services to local government" – an award that pales compared to the far more prestigious gong Riordan receives in the Eye's Rotten Boroughs Awards 2019 (see the Nice Work Award).

First among equals
The BBC's managing editor for news and current affairs, Sarah Ward-Lilley, receives an MBE for "services to journalism" – services that have recently included offering increasingly large amounts of money to women who have been stonewalled over equal pay claims for up to two years just as they come to the brink of employment tribunals. This follows the belated realisation by BBC managers that publicity of the sort Samira Ahmed brought on them with her own tribunal in November did them no favours, and the consequent discovery of wads of cash that the corporation has long insisted were not available to settle such claims.

Last but Knott least
"Cricketer who ran shop made MBE." Thus the Herne Bay Gazette's front-page last week, reporting that a man who once owned a sports shop in Herne Bay was included in the honours list. Readers who recognised the accompanying photo may have been surprised to realise that "cricketer who ran shop" was how the paper chose to summarise the career of Alan Knott – arguably the greatest wicketkeeper of all time.
More top stories in the latest issue:
MAIL PRIVILEGE
Despite an earlier warning from the Information Commissioner, Dominic 'disrupter' Cummings is again using private email on government business.
KNIGHT TERRORS
Why the knighthood for civil service chief executive John Manzoni is sheer brass neck – and the timing is terrible!
NORTHERN BLIGHTS
The terminally dysfunctional Northern rail franchise is an easy target for Grant Shapp, but many of its woes hail from the transport secretary's own department.
TRICKY NICKY
Ex-MP Nicky Morgan, promised a peerage, has been given her old job as culture secretary. But her department may not be long for this world.
COURT CIRCULAR
Brian and the rest of the royals are coming round to the idea of a regency, but no one is bold enough to raise the matter with Queen Brenda.
PARKING MAD
Despite Boris Johnson's pre-election pledge to axe hospital parking fees, most outpatients, visitors and staff will still be paying the 'unfair' charges.