The World of Royalties
Harry and Meghan, Issue 1549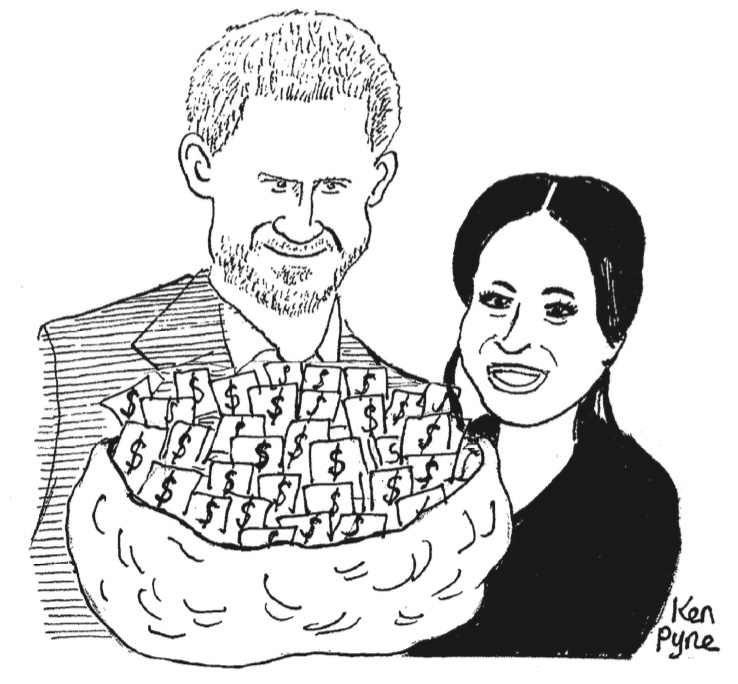 A DOUBLE celebration in Santa Barbara this week as Lilibet Diana Mountbatten-Windsor is closely followed into the world by The Bench, the first children's book by the author formally known as "Meghan, the Duchess of Sussex".
"Sources close to" the duchess have let selected media outlets know the book is intended as the first of many for both children and adults – and should Meg run short of ideas, the royal couple are cannily soliciting them via their website, Archewell.com.
"How have you – or someone you know – actioned compassion in your community?" it asks in characteristically tooth-rotting style on its "Stories" page, inviting visitors to "share your story for a chance to be featured".
Anyone taking up the invitation will find themselves treated less compassionately than Penguin Random House does its latest celebrity author. The Archewell terms and conditions make it clear that anyone sharing a story signs over "an irrevocable, royalty free, fully paid up, in perpetuity, worldwide, assignable licence to publish, broadcast, and use, in any media now known or hereafter developed" not merely to the Sussexes' charitable foundation, but also to their limited liability company Archewell LLC, Archewell Productions (through which the couple hold their multi-million-dollar deal with Netflix) and Archewell Audio (through which they have a similar deal with podcast giant Spotify).
Sole property
Lest there be any doubt, the non-negotiable contract specifies film, video and publication among the many uses the royal couple can make of people's material. "If any Archewell Party elects to use the submission for any purpose, all rights under copyright or other intellectual property rights… relating to your Submissions shall be the sole property of Archewell," the T&Cs continue. "You shall not be entitled to any credit, consideration, notice or payments of any kind."
Not that this will necessarily be the end of your involvement. "You further agree that if Archewell or the Archewell Parties elect to use your Submissions, you will execute any documents requested regarding the usage. If you violate any of the representations or warranties you have made and as a result a use by Archewell and/or the Archewell Parties of the Submissions causes them to be liable to any third party, you agree to indemnify Archewell and/or the Archewell Parties and their agents, employees, affiliates, subsidiaries, representative and all related parties from and against any and all damages, costs, judgments and expenses (including reasonable attorney fees) which it incurs as a result of its use of the Submissions."
LA law
Which raises the interesting prospect of the sixth-in-line to the throne and his wife and their billion-dollar production partners not just exploiting their fans, but also passing on any bills from LA lawyers that come in as a result. What could be more compassionate than that?
More top stories in the latest issue:
THE BIG TECH-AWAY
Rather than a "huge prize for British taxpayers", the G7 agreement to stop big tech companies avoiding tax was more of a booby prize for the UK.
STANDARDS ISSUE
Food safety regulation is in such a mess the FSA has been told to come up with a plan to make itself less dependent on monopoly supplier Eville & Jones.
THE LORD GIVETH…
Peter Cruddas's £500,000 gift to the Tories three days after joining the Lords as a Conservative peer is just the latest Tory cash-and-honours coincidence.
STILL IN SOLITARY
The "inhumane" 14-day solitary rule for new or returning care home residents – even those vaccinated twice with negative Covid-19 tests – goes to court.
PRIVATE PARTY
A new £10bn arrangement for private hospitals to help reduce the NHS backlog means it's trebles all round again at private hospital giant Spire Healthcare.
SECRET SQUIRRELING
Billions of pounds are feared lost in pandemic support measures, but the government wants details of where the money went kept as secret as possible.
TRAVELLERS' CHECKS
Checking up on returning travellers who should be self-isolating is being farmed out to private security firms who'll hire, well, just about anyone.
DATA DAY CONCERNS
Next month's haul of medical records from GPs across the country raises fears that people's anonymised personal data is in fact easily identified.
EVICTION RALLY
A looming wave of evictions in the private rented sector is likely to trigger a surge in homelessness and escalating costs for local councils.
CHURCH COLLECTION
The latest from Christ Church, Oxford, and the Percy-cution of the dean; and woe in Winchester for the bishop.