Pandemic update: M.D. On the best medicine...
Coronavirus, Issue 1518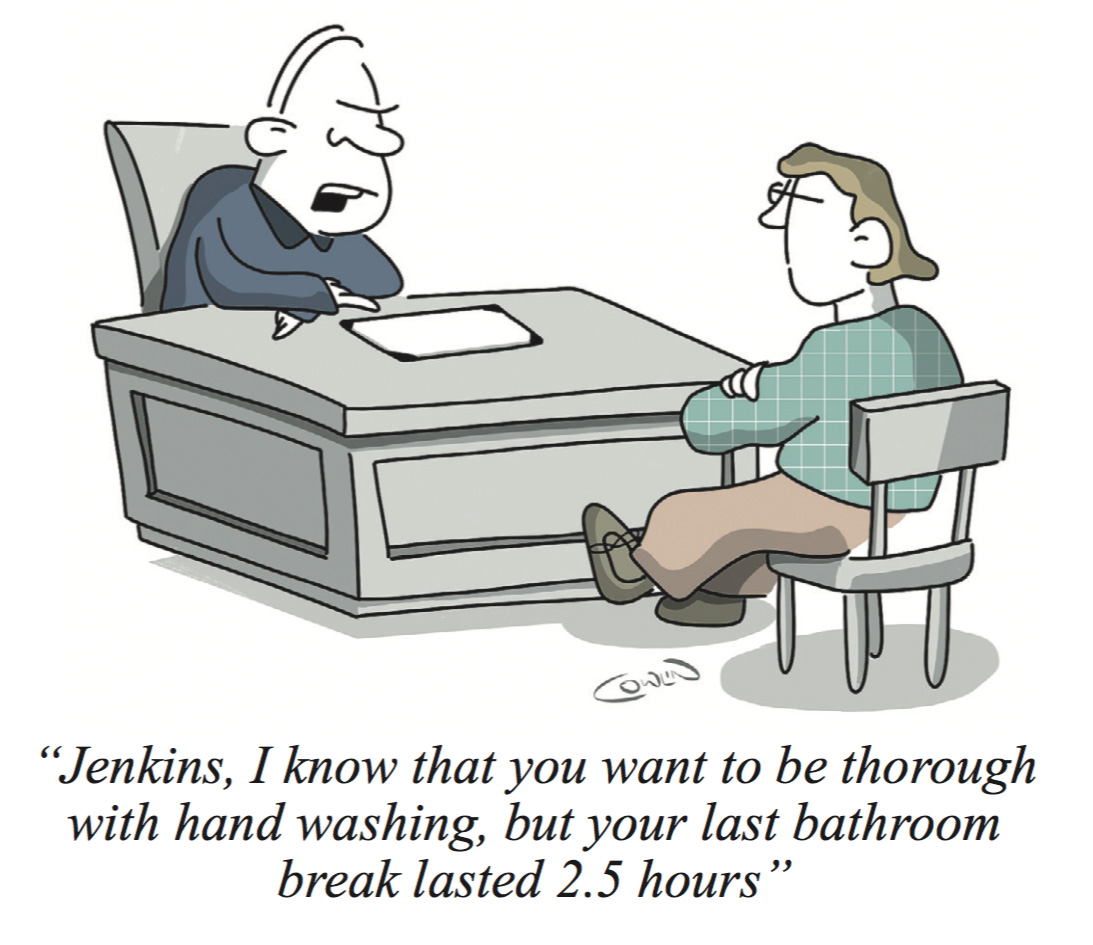 FROM the moment your sperm meets your egg, you join the queue for death. It's nature's way of recycling. You can fall back in the queue by eating your greens or washing your hands, but we all get to the front eventually. Even experts have been known to die.
In 2018-2019, there were 541,589 deaths registered in England and Wales, 50,100 more than expected, due to a mixture of cold weather, prolonged austerity and seasonal respiratory viruses. As of 15 March, there were 35 deaths from coronavirus; but pandemics grow exponentially and cases could quickly overwhelm the NHS, social care and funeral services, and cause widespread cancellation of treatment for other conditions like cancer and heart disease.
Estimates of how many extra deaths Covid-19 will cause in the UK range from 50,000 (ie similar to 2018-19) to 500,000 (ie a doubling of annual deaths). It all depends on how well we manage the risks. The government's policy is to abandon containment and promote herd immunity, with Public Health England now anticipating the crisis could last a year, infecting 80 percent of the population and leading to 7.9m people needing hospitalisation. This would likely put the deaths at the upper end of the estimates, and intensive care services would have to be strictly rationed.
Hand-washing: a roaring success
The government's scaling back of community testing has fuelled further uncertainty. One solution comes from Graham Medley, Professor of Infectious Disease Modelling at the London School of Hygiene and Tropical Medicine. We should all assume we already have the virus and behave as if we're infectious until further notice. Wash your hands and keep your distance from the elderly (unless they need help getting on and off the commode. Then wash your hands again). 
The hand-washing campaign at least has been a roaring success. Early figures suggest it may have delayed the surge of Covid-19, and is likely to have reduced the incidence of seasonal influenza, food poisoning, hepatitis A, threadworm and pubic hair in Caesar salad.
Alas, 40 percent of the world's population do not have access to the miracle of soap and water in their homes, and that is where the virus will eventually hit hardest. They're used to death. More than 4,000 people a day die from TB and 1,200 from malaria. But because it doesn't crash the economy, hit pension funds or disrupt holiday cruises, it gets virtually no publicity.  
For the UK public at large, the risk of a coronavirus death remains low. The predicted range is that out of every 100 random Brits, 99 won't die from Covid-19 this year (worst scenario) to out of every 1,000 people, 999 won't die from Covid-19 (best scenario). Prime Minister Boris Johnson's "many of you will lose loved ones before their time" speech was hardly Churchillian ("We will lose thousands on the beaches"). Those at highest risk are in their eighties, unsurprising since the average life expectancy in the UK is 80.96 years. Those who die may have died from something else in the not too distant future. 
If M.D. (58) got seriously ill with Covid-19, I'd join the queue for a ventilator but accept it if a 40 year old jumped ahead of me.
?That's how rationing in the NHS has always worked. If I make it to 80, I would neither want nor expect to have prolonged intubation on ITU for severe respiratory distress. Overtreatment of the elderly when they are seriously ill often just extends suffering. Before we all demanded to live forever, pneumonia was known as "the old man's friend" (with a dose of morphine?on top).
Experts have been predicting another pandemic for decades, but politicians refused to listen, preferring to run the NHS on near 100 percent bed occupancy, with fewer beds and intensive care facilities than most other countries. Indeed, over the last 30 years, the number of NHS hospital beds has halved. We have not built extra capacity into the system and we will soon find out if we can. 
All eyes will now switch to the overall death figures. The Office for National Statistics provides a weekly tally for those with a strong stomach. The week ending 10 January 2020 was the worst of the year so far, with 14,058 deaths. But it's fallen every week since to 10,816 in the week ended 28 February. Deaths are actually lower this year than the average for each week over the previous five years. I like to think it's the handwashing. 
Bingeing on fear
Many counties have taken much stricter measures than the UK, based on roughly the same evidence, which shows how uncertain the science is. We will only find out who got it right after the event. In the UK, many older people may say "bollocks" to 14 weeks of lockdown and go about what's left of their one wild and precious life. All adults should already have made an advanced care plan (eg via Compassion in Dying), so doctors know in advance whether you want a shot at recovery or end of life care. 
M.D. works in the world of post-viral fatigue and so is expecting an increase in workload further down the line. Evidence suggests that if you're fearful and anxious when and after you contract a virus, it makes the symptoms and long-term sequelae worse. And the UK is currently bingeing on fear.
Down the corridor, my anaesthetic colleagues have started their spike in workload. The Chinese and Italian experience is that staff working in intensive care may be at increased risk of serious illness and death. This may be because repeated exposure to high doses of the virus from intubation and other intimate procedures takes its toll. It may be that the best protective equipment wasn't available. And it may also be that the stress and fear of working intolerably long hours with a relentless workload of critically ill infectious patients also damages the immune system and makes you more susceptible. By any projection, we are not well equipped to deal with a surge in demand. ITU staff need the best equipment available. And the right to refuse to treat.
GPs and other community carers are doing home visits to people likely to have Covid-19 without any protective equipment at all, or with cut price garb that looks like they work behind the counter in Greggs. How virus-tight they are remains to be seen, but they are causing much nervous hilarity.
Keep it up
Laughter is the best medicine – unless of course you have syphilis, in which case it's penicillin. There are no effective drugs yet for Covid-19 and the best ways to boost your immune system are not the nonsense new age supplements doing the rounds (there's a $200 magic yoghurt pill you can shove up your arse) but laughter and sex. The second drug my GP surgery ran out of (after paracetamol) was Viagra. The best position for reduced transmission and improved lung function is the wheelbarrow. Just don't go past your mum's house. Enjoy your isolation. Look out for others. Try not to fall down the stairs. Don't get caught in a bog-roll scrum (it's the ideal breeding-ground for viruses).  And remember it's the simple pleasures, not the big scares, that give purpose and meaning to life. Coronavirus may yet teach us to behave in a kinder, gentler, less consumptive way. 
M.D.

More top stories in the latest issue:
TESTING TIMES
Many UK scientists are deeply sceptical about the stopping of population testing for coronavirus.
HEDGE OF DARKNESS
Top Tory donors are among the big winners from betting against the stock market.
CYPRUS AVENUE
The (short-lived) exceptions to Trump's travel ban included not only the UK and Ireland, where he has golf courses, but also Cyprus, where two Trump shell companies are registered.
HUNT BALLS
Former health secretary Jeremy Hunt's criticism of the government's response to coronavirus made no mention of the 8,000 NHS beds lost on his watch, while every winter became a "crisis" even without an epidemic.
DEXEU RUNNERS
Hundreds of spare civil servants are still waiting for new roles after the abrupt closure of the Department for Exiting the EU in December.