London's explosive shells
Beirut blast , Issue 1541
THE mystery surrounding the explosion that killed 200 people and wrecked a large part of Beirut last summer takes a turn, like many outrages far from British shores, through a London shell company formation office. It gives a clue, the Eye has discovered, as to who might have been shifting the 2,750 tonnes of ammonium nitrate that blew Lebanon's main port to smithereens.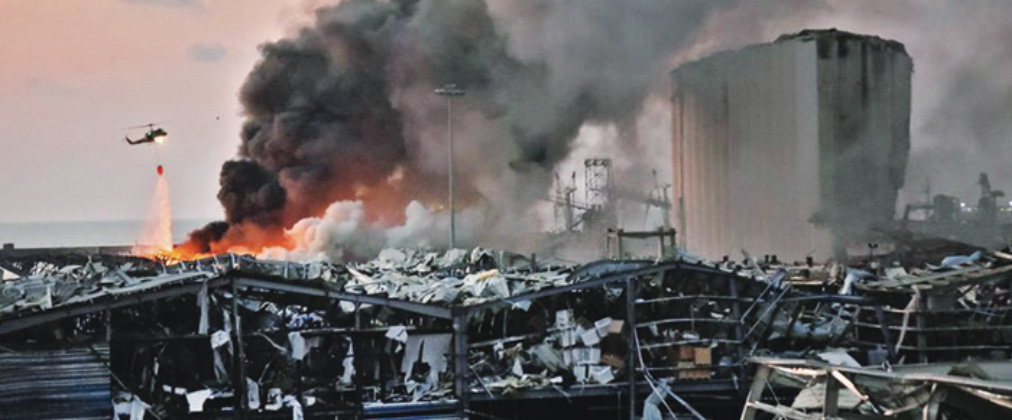 The supplier of the chemicals, aboard a ship from Georgia supposedly headed to Mozambique in 2014 but "diverted" to Beirut, was a UK company called Savaro Ltd. It was incorporated in the UK in 2006 and is owned by a couple of shell companies: Lanbert Ltd from the British Virgin Islands; and Status Grand Ltd of Cyprus.
These two outfits are also behind around 35 UK "limited liability partnerships" (LLPs), the common money-laundering corporate vehicle. Most are said to be ultimately owned by various Ukrainian individuals. They have no discernible presence in the real world and are either dormant or file accounts that don't look credible. One, however, claims to have been audited by a serious firm of UK chartered accountants, BSG Valentine, in London's West End.
Fatal shipment
This is Mercury Diamond LLP, supposedly a supplier of mining equipment with a registered address just off Oxford Street. It reports that it is "controlled by Mr A Bessarab by virtue of his control of Lanbert Ltd and Status Grand Ltd". The statement forms part of accounts which say that an "unqualified" audit report was given by BSG's Luke Richardson. He and BSG declined repeated requests by the Eye to say whether they stood behind the audit report. If the UK had any meaningful accountancy regulators, it might be a question for them to ask.
If Andriy Bessarab, a 54-year-old Ukrainian, does indeed control Lanbert and Status Grand, that puts him behind Savaro Ltd and the fatal shipment. But, as with much else in the UK's shady shell company business, the truth remains intentionally hard to discern. Bessarab remains untraceable and the Mercury Diamond business, beyond a dubious website and a phone number that isn't answered, is also difficult to pin down.
The smart money is on the ammonium nitrate having been destined for the Assad regime in Damascus. A recent Lebanese TV investigation pointed out that the same London-registered office location used by Savaro was also home to companies linked to Russian-Syrians sanctioned in the US as part of Assad's coterie. A Ukrainian connection certainly fits that profile. Whatever the truth, the UK shell company and financial services industry has once again played a standout role in enabling the worst abuses around the world.
More top stories in the latest issue:
OPEN & SHUT CASE
Still no clue to the identity of who funds the lockdown-sceptic Covid Recovery Group of MPs demanding the PM "let us reclaim our lives, once and for all").
MERGER MOST FOUL
Ex-chancellor George Osborne, his plutocratic new employer… and a lucky escape back in coalition days for AstraZenica.
VULTURE SERVICES
PwC – no stranger to forcing firms into administration – is hired by the Insolvency Service to give legal advice on its expanding workload!
OLD SCHOOL TIE
Schools "catch-up tsar" Sir Kevan Collins will be marking his own work when advising on whether the tutoring programme is a good value way to help pupils.
QUARANTINE FLAGGED
The latest border quarantine scheme in airport hotels is so inconsistent it already has the thumbs-down from analysts at the Institute of Government.
RANK BEHAVIOUR
The University of Liverpool is using a questionable ranking system to get rid of more than 40 academics currently working on Covid-related projects.
SCEPTICS TANK
PCR Claims, which aims to sue the government for over-reacting to Covid, is seeking support from Leave-voting Facebook groups in the north of England.
WHITE VAN MAN WRITES…
Lockdown has turned a nation of shopkeepers into a nation of "self-employed" delivery drivers who are overworked, undervalued and have nowhere to pee.