Prime Minister's Questions
Live on Fakebook, Issue 1558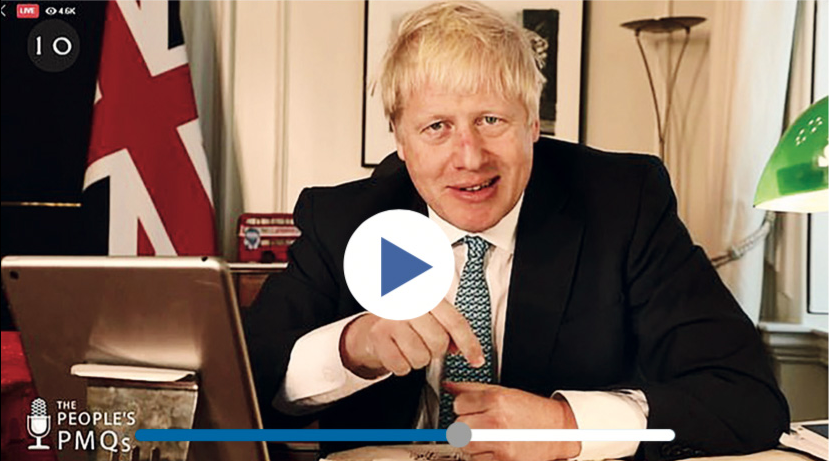 (PRIME MINISTER ENTERS TO SOUND OF BLUE CASSETTE PLAYER BELTING OUT 'THINGS CAN ONLY BUILD BACK BETTER' BY D-PRESS)
Boris: Greetings from the Tory heartlands of Somewhere-up-Northchester!
(CROWD OF BORIS FANS GOES CRAZY AND GIVES HIM STANDING OVATION)
Boris: Yes, folks, I'm here. With the new three-word slogan that says everything about this government. Build Back Blather. (checks autocue) Build Back Banter. (squints) Build Back Booster. Yes, that's the one! And what a fantastic year it's been! We've achieved so many amazing things, it's hard to know where to start, so I won't. Instead, I'll repeat our brilliant new slogan: Build Back Better. Hang on, that can't be right, we're not building anything, are we? We dropped the 'houses' bit after all the nimbies had a whinge about the Green Belt. Build Back Bitter – that's it. Wetherspoons! Oh no, we haven't got any beer either. Build Back Borders. What's that, Lord Frost? Oh, don't mention the borders, good point. Build Back Bluster! That's the one! Hats off to our brilliant economy, which from now on is going to be high skill, high wage, high productivity, high viz, hi-ho silver lining, high sierra, high noon, high as a kite, Hi-di-Hi, high tax – whoops!
(AUDIENCE CHEER, NOT CARING WHAT HE'S JUST SAID. THEY'LL APPLAUD ANYTHING)
Boris: And we're going to rewild Britain. Build Back Beaver! What does that mean? Nothing, who cares, but it sounds vaguely like a double-entendre.
(AUDIENCE BOO UNWARRANTED USE OF FRENCH PHRASE)
Boris: Whoops! I meant innuendo. Anyway I'm all for beaver everywhere. Don't tell Carrie!
(AUDIENCE CHEER UNELECTED FIRST LADY AND HER GREEN, WOKE, THOROUGHLY ANTI-CONSERVATIVE VIEWS)
Boris: So Build Back Batter. Provided there's some fish to fry, which there won't be with President Mackerel and the Barmy Barnier Beret Brigade.
(AUDIENCE CHEER MEANINGLESS ALLITERATION AND IGNORE THE FACT THAT THEIR LEADER HAS SPENT MORE TIME WRITING THAT JOKE THAN ADDRESSING THE COUNTRY'S PROBLEMS)
Boris: You see, folks, no supply chain problems with the gags. And they're cheap. We've got plenty and they're being brilliantly delivered – by yours truly. No need to call in the army to make this speech. And hats off to my amazing team of colleagues. There's Liz Truss. What a support she is! And thanks to her for all those incredible trade deals that she's very nearly done. Priti Patel, she's priti scary! Particularly if you're a crusty Swampy type she's going to glue to a slop bucket in a high-security cell in D-wing.
(AUDIENCE GO MAD AT THOUGHT OF PUNITIVE JUSTICE AGAINST PERFECTLY LEGITIMATE DEMONSTRATORS)
Boris: And let's not forget the Govester!
(SOUND SYSTEM BRIEFLY BLASTS OUT 'DANCING QUEEN' BY RAABBA)
Boris: He's our very own King of the Disgo-ve!
(AUDIENCE STUNNED INTO SILENCE AT JOKE SO TERRIBLE IT WOULDN'T BE SEEN IN A CHRISTMAS CRACKER, EVEN IF CHRISTMAS WASN'T CANCELLED)