Preparing to fail
Deal or no deal , Issue 1537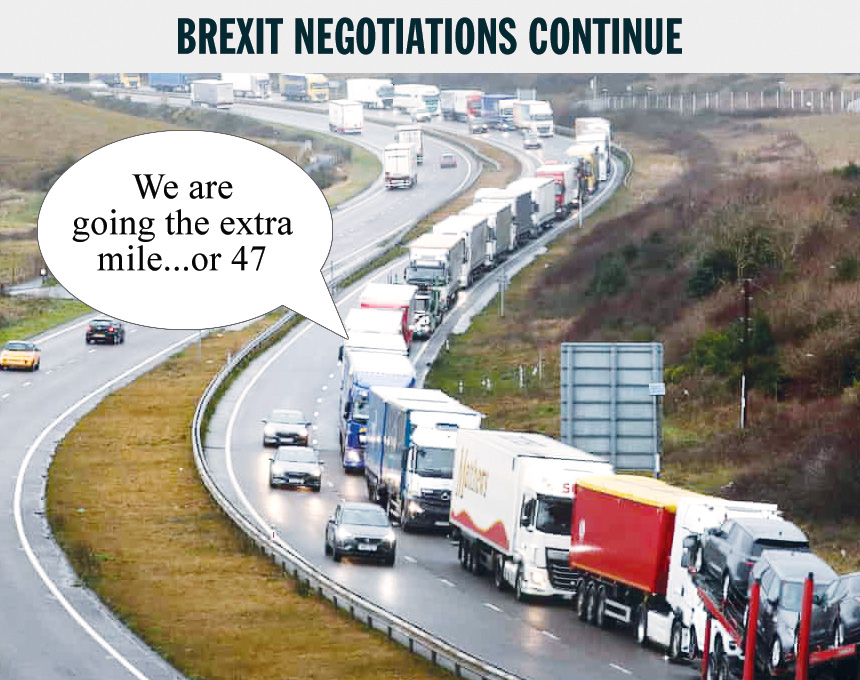 DEAL or no deal, the disruption that follows the end of the UK's Brexit transition period will reflect the abject failure of government to prepare for what has been going to happen for four and a half years.
A handy guide to the rolling fiasco came in the form of a public accounts committee report this month. Among its findings were that "government has not provided key information needed by businesses to prepare, such as detailed guidance on how to apply for simplified customs procedures"; "new systems, including the core Goods Vehicle Movement Service, are still in the testing and development stage"; "the market for customs agents is not expanding at the pace it needs to meet the increased demand post transition" (20,000 trained versus 50,000 needed); and "the infrastructure in Kent to hold HGVs in case of delays is also still in development".
Musical chairs
Behind the scenes, it's a tale of governmental dysfunction: a failure to plan dating from David Cameron's promise of a referendum, which had "led to a delay on negotiating positions and preparations", followed by panic and "spend[ing] too much on consultants to undertake work that could better be done by civil servants" (have we mentioned this before? Ed).
The musical chairs of political responsibility is well known – from Cameron to May and Johnson and exit preparations cabinet ministers David Davis, Dominic Raab, Stephen Barclay and now Michael Gove. But further chaos has been caused by senior officials heading for the exits.
"There has been high turnover among staff working on EU exit," notes the committee with some understatement. "DExEU has had three permanent secretaries, the Border Delivery Group has had three director-generals, and there have been changes at [the top] permanent secretary grade in key departments impacted by EU Exit, including Defra and HMRC."
Still, after Brexit and Covid, the next mega-crisis will presumably be handled better, won't it? Er, possibly not. There "has been no serious attempt to reflect and capture lessons for other challenges that government faces", say the MPs. Happy New Year.
More top stories in the latest issue:
NEEDLE POINT
Even before the first Pfizer jab was given, the government rushed out a report congratulating much-criticised Kate Bingham's Vaccine Taskforce. Fancy!
TRADING FAVOURS
New appointments at the Department for International Trade confirm suspicions the UK is on its way to becoming a deregulated tax haven.
CARE AT CHRISTMAS
The government ban on care home residents over 65 being allowed out to spend Christmas with their families faces a last-minute challenge in court.
KPI NUTS
"Key performance indicators" in Serco's controversial contact tracing deal do not – amazingly – include the number of people it actually manages to contact.
COVER THE TRACES
Could eye-watering costs explain the secrecy still surrounding consultancy firm Deloitte's contract for managing the UK's woeful test and trace scheme?
SERCO SPREADS
To the home secretary's annoyance, the latest Covid-19 outbreak at a Serco-run centre has led to cancellation of deportation flights for "small boat" migrants.
THE NHSX-MEN
A leaked audit of NHSX back in January shows Matt Hancock's digital health unit was already in disarray when he put it in charge of the Covid-19 app fiasco.
BLEACH BUMS
A firm touting for business by claiming to be "the UK's Most Trusted Name in Anti-Viral Deep Cleaning" leaves the NHS and others unimpressed.
RUDY AWAKENING
How Rudy Giuliani, Donald Trump's proven lawyer and a former would-be presidential candidate, has been reduced to flogging, er, fish oil online.