KPMG's atomic numbers
Hinkley Point,
Issue 1428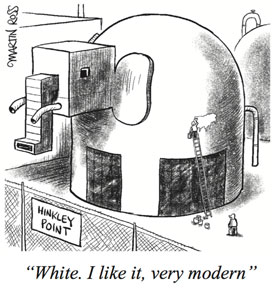 THERESA MAY's decision that Hinkley Point C should go ahead is a triumph for the consultants who have been at the government's side for years – ushering the deal along without having their conflicts of interest questioned.
Last year accountancy firm KPMG earned €14m as joint auditor and adviser to Electricité de France (EDF), the company that will build the plant at an estimated cost of €18bn. At the same time, KPMG has been involved in developing the policy and financial arrangements that made it all possible. For several years until 2015, the director-general at the Department for Energy and Climate Change (DECC) in charge of advice on nuclear policy was former KPMG consultant Simon Virley. Over this time, says the firm, "he led the biggest reforms to the UK energy market since privatisation". He also gave contracts to his KPMG that have paid out around £2.5m, leading up to former energy secretary Ed Davey's decision to proceed with Hinkley Point C.
Private dancers
KPMG's work on the project – determining how to get the private sector to stump up billions for new nuclear while taxpayers and electricity consumers take the risks – is led by corporate finance partner Darryl Murphy, a specialist in the unlovely public-private partnerships. Meanwhile, KPMG director Anurag Gupta has been advising the government on the mechanism (so-called "contracts for difference") by which EDF will get its returns through an exorbitant guaranteed electricity price, "and the [government] negotiations with EDF".
Yet another KPMG partner, its UK head of energy Andy Cox, advised EDF on the 2008 acquisition of British Energy, via which it acquired Britain's existing nuclear plants, and the sale of one of them in 2012.
KPMG's work has evidently been crucial to the Hinkley Point C decision. A freedom of information request by the Eye for reports prepared by the firm has been refused on grounds that releasing them would prejudice government policy-making and harm both its and EDF's commercial interests. It would also damage relations with the EU, as the information was used in making the government's case that the deal does not breach European "state aid" rules.
Power player
Virley left government last year, a CB for "services to UK energy supply and energy security" pinned to his suit. He returned to KPMG and is in charge of the firm's "power and utilities" work, cashing in on the government's plans for low carbon energy under the "energy market reform" (EMR) initiative formulated while, er, he was in charge of advice on energy policy.
As Eye 1403 revealed, Virley escaped official scrutiny of this revolving door move by terming it a five-year "career break" from the civil service, meaning it's now possible to remain on the government's books and be a partner in an accountancy firm at the same time.
The Hinkley go-ahead is great news for international players in the would-be nuclear industry, and KPMG more generally. KPMG's advice to the energy department also covered "policy in relation to small modular reactors", towards which the government is warming. Coincidentally another nuclear manufacturer, Westinghouse, is lobbying government to push ahead with this technology. It happens to be a client of KPMG, which also worked on the short-sighted sale of Westinghouse by the state-owned British Nuclear Fuels to Toshiba ten years ago. The judges who awarded the deal a prize were impressed with how "KPMG Corporate Finance used its contacts with government and BNFL…" A decade on, those "contacts" are more useful than ever.
More top stories in the latest issue:
DIPLOMATIC IMPUNITY
UK diplomats in shady countries talk about how "British capital" is being put to work – but it's often dirty money laundered via shell companies.
FUEL'S GOLD
Proof that councils must have money to burn, as incinerators are shown to be an inefficient and expensive way to dispose of waste.
SHIRLEY SOME MISTAKE
The number of people who say they were abused as children while in the care of Lambeth social services is now approaching 700.
COUTTS YOU, SIR
Much of the money siphoned illegally from the Malaysian government's 1MDB fund passed through Coutts, the publicly owned British bank.
SOLICITING CASH
The Law Society demands that solicitors cough up to qualify for its conveyancing scheme – but is failing to assess standards of those accredited.
WATCH THE WATCHDOG
The chair at the equality watchdog examining the Tories' welfare reforms actually advised the government on the contracts at the heart of the reforms.
SCOTS MISSED
Nicola Sturgeon has not set up a Pitchford-style inquiry into blacklisting in Scotland, even though 582 construction workers were blacklisted.
CASE IS RIGGED?
Lawyers for the family of a mental health patient who died in custody are questioning the objectivity of disciplinary proceedings against the officers.