Making plans for Nigel
European elections, Issue 1494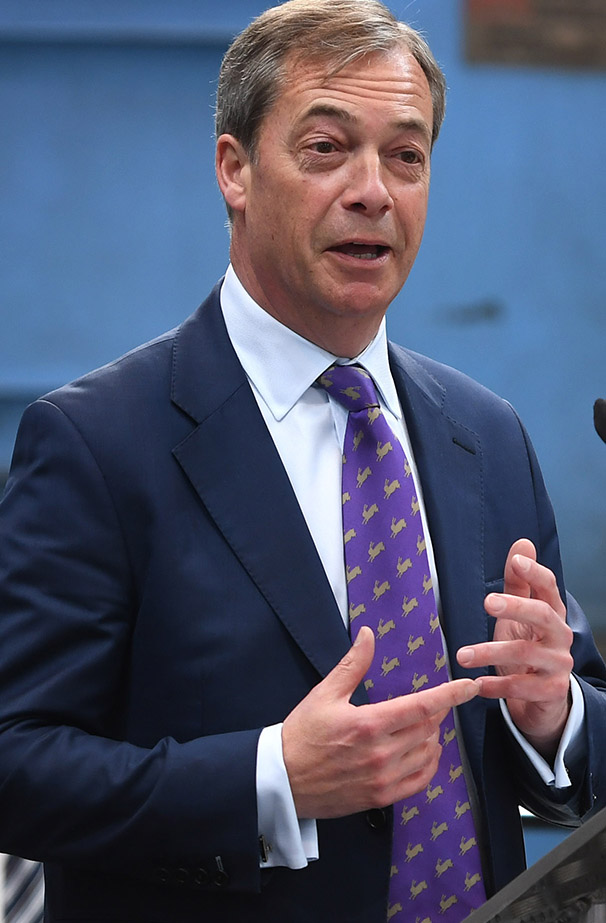 THE prospect of Nigel Farage et al returning to the bully pulpit of the European parliament fills few in Brussels with glee – with the possible exception of his old bête noire and sparring partner, Belgian federalist Guy Verhofstadt. But with the six-month Brexit "flextension" in place, and every chance of another extension being agreed in the event of continuing Commons gridlock or another referendum, they know it's far from impossible.
Few are perturbed by the bilious threats of Jacob Rees-Mogg and the blowhard's blowhard Mark Francois that "perfidious Albion on speed" will wield the British veto its final months of EU membership like a wrecking ball.
EU diplomats point out that there will be bugger-all for the UK to block, apart from economic sanctions on Russia, which the UK supports. The European Defence Fund – to which the Ministry of Defence anyway wants to have access – and the EU common defence projects have already been agreed; and a decision on the next seven-year budget doesn't have to be made until 2020. Moreover, as long as the UK remains an EU member, the Treasury is legally bound to make pro rata contributions to the EU budget.
Relocation allowance
If the October deadline for Brexit actually prevails, the UK's European elections will enable 73 hardy souls to trouser nearly €30,000 in salary for just under four months' work, plus a five-figure relocation allowance – and to be the answer to future pub quiz questions on the shortest parliamentary mandate.
If British MEPs do end up fighting elections next month and returning to the European parliament, the work shouldn't be too onerous for them as they will be shut out of all the plum positions.
After the 2016 referendum, Labour MEPs Claude Moraes and Linda McAvan held their posts chairing the justice and development committees. However, Moraes was the victim of an egregious piece of Brit-bashing earlier this month, when Spanish MEPs led a successful campaign to oust him as parliament's negotiator on a law guaranteeing visa-free access to the EU for UK citizens after Brexit, so they could insert a reference to Gibraltar as a "colony".
Shaping the next commission
A potential four-month mandate in the new parliament until 31 October could, however, still be enough time for UK MEPs to shape the next European Commission, which will be voted on in September.
Germany's Angela Merkel may be the chief dove among EU leaders when it comes to Brexit and architect of the six-month extension, but her compatriot Manfred Weber, who leads the CDU in Brussels, has reason to be worried by Merkel's generosity. Weber wants to replace Jean-Claude Juncker as the next European Commission chief, and is the chosen candidate of the centre-right European People's Party. He knows that the UK Labour party would expect to elect 25-30 MEPs in May – votes that could come in handy for one of his main rivals, the Dutch socialist Frans Timmermans.
More top stories in the latest issue:
A SHORT STORY
As thousands of job losses loom at Debenhams, we name the UK hedgies and asset managers who cashed in shorting the stock as it went down the tubes.
MONEY TALKS…
Saudi Arabia may be a foul regime that chops its critics up into small pieces, but Saudi Aramco's $12bn bond issue is just too juicy for some banks to ignore.
…BULLSHIT WALKS
In the week Brexit was meant to happen, HSBC rebooted its 'We Are Not An Island' ad campaign – having recently shifted seven of its offices to Paris!
DE PFEFFEL PIFFLE
Despite admitting that Boris Johnson's Telegraph columns aren't to be taken seriously, the paper still runs the wannabe PM's jottings as front page news.
BECKHAM'S OWN GOAL
Unicef ambassador David Beckham's presence at the Bahrain Grand Prix suggests the celeb's commitment to children's rights is not all it could be.
COURT CIRCULAR
Why keeping Meghan Markle's new PR supremo Sara Latham at Buck House and answerable to Brenda's media team is just a disaster waiting to happen.