Faults on the line
999 calls, Issue 1451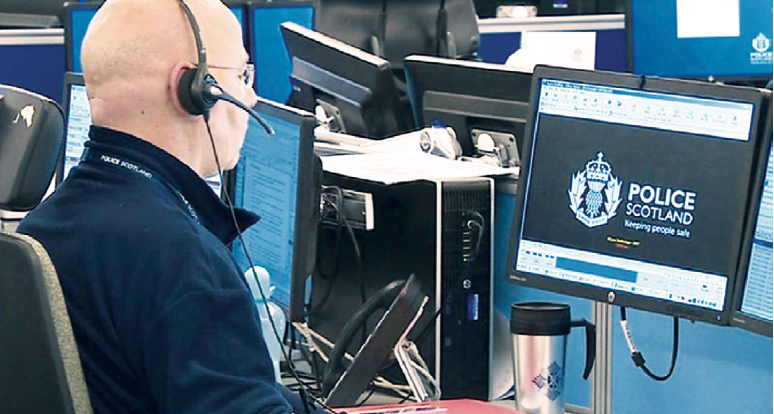 BILSTON GLEN, Police Scotland's troubled call-handling centre in Midlothian, has recently been called on to deal with calls on behalf of the Metropolitan Police and the Police Service of Northern Ireland – despite concerns over its role in three deaths.

Following reports in Scottish media that staff felt handling extra calls from outside Scotland was "pushing us beyond any reasonable limits", assistant chief constable Nelson Telfer explained in a statement that Bilston Glen does "assist and support our colleagues" elsewhere in the UK by taking on their 999 calls during major incidents or bad weather.

Bilston Glen has been beset by problems since opening in 2013 as one of the three large call centres that, following creation of a single police force for Scotland, replaced the eight local control rooms that once served the country.

Chronic staff shortages
In 2015 Her Majesty's Inspectorate of Constabulary in Scotland reviewed police call handling after Lamara Bell was discovered critically ill in a crashed car on the M9, next to her dead partner John Yuill. Miss Bell died in hospital of kidney failure brought on by dehydration, though her injuries were thought to have been non-life-threatening.

Police Scotland admitted that a reported sighting of the car wreck days earlier had not been investigated. The subsequent inquiry found that the call from a member of the public was taken at Bilston Glen by a police sergeant on overtime, providing ad hoc cover for chronic staff shortages. He, like many others providing cover at Bilston Glen, had no training on the centre's computer system and was told to make paper notes and pass these to civilian staff to input.

Calls to Bilston Glen were also a focus of the investigation into the death last year of Andrew Bow, aged 37, who had learning difficulties and was recorded on the police database as a vulnerable person. On 12 March 2016, police in Edinburgh found him in a confused and paranoid state and took him to hospital for treatment, then back to his flat.

Failure to act
A few days later police received 999 calls from both neighbours and city council staff concerned for his welfare. The first of these reports was made on 16 March and included a report that Mr Bow may have committed suicide. However, officers did not attend his home until 23 March, when he was found dead. The case was referred to the police investigation and review commissioner by the Crown Office and Procurator Fiscal Service. Commissioner Kate Frame described the failure to act on multiple calls as "particularly concerning".

A BBC Scotland investigation in December revealed that a further 82 "near miss" incidents were recorded by Police Scotland's call centres, including delays, wrong locations being noted and failing to recognise emergencies. Forces relaying on Police Scotland as back-up during a crisis should beware.
More top stories in the latest issue:
CUSTOMS & EXIT
Why HM Revenue & Customs simply won't be able to cope without a transitional customs union come March 2019.
THE GRAY POUND
The universities' £77bn pension scheme is under-performing and has a big deficit – but its chief investment officer Roger Gray is still scraping by.
SAM CAM FLAM
The new Telegraph columnist who's a former aide to Samantha Cameron – and now gaily plugging companies associated with her former boss.
SHELLCO SHOCKERS
Despite new laws to end corporate secrecy, around 100,000 companies have yet to identify their actual owners. Will they be fined? Don't bank on it…
COURT CIRCULAR
Stress behind the scenes in royal circles as polls suggest the public is very lukewarm about Charles as king – and really doesn't want a Queen Camilla.
COMMUNIQUE FROM CHAGOS
Why the North Korea crisis, and America's need for its Indian Ocean base on Diego Garcia, means more uncertainty for the exiled Chagos Islanders.