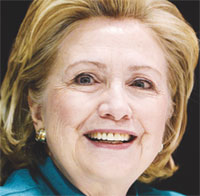 Only In The Magazine
Cameron Welcomes China's Offer to Buy UK… England's Disappointing World Cup 'Good Preparation for Future'… Iron Maiden to Headline at Glyndebourne Now 'Glastonbury's Too Posh'… Tony Blair: Why I Was Right About Everything and Everyone Else Was Wrong… Why Can't England Produce Decent Football Commentators… Hillary Clinton's Diary, as told to Craig Brown

And also...
- Extra everything: More jokes, journalism and cartoons in our 48-page summer special
- Birthday honours: Some of those gongs for 'extraordinary people' really were odd, yes!
- Eyeworld: Briefings from Baghdad, Brussels, Burkina Faso and the Venice lagoon
For all these stories you can buy the magazine or subscribe here and get delivery direct to your home every fortnight.
Next issue on sale: 5th August 2014.