P-P-Pick up a Paniguian
Revolving Doors,
Issue 1429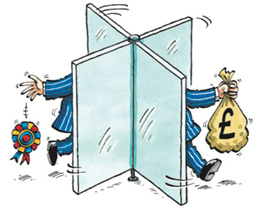 OF ALL the Whitehall mandarins whom the world's weapons makers want to keep sweet, none are more useful than those who run the defence arm of the government's trade promotion body.
So it was no surprise that when he retired as head of UK Trade and Investments' Defence Support Organisation early last year, Sir Richard Paniguian was snaffled up by the industry. But a closer look at the so far unnoticed move suggests something a bit murkier.
Six months after leaving government Sir Richard became UK chairman of Raytheon Systems, the self-styled "world's premier missile-maker", which, it so happens, has benefited from UKTI's efforts on its behalf. In 2014 the company jointly hosted an export promotion event with UKTI, boasting of a "strong relationship with UK Trade and Investments". Among its recent commercial successes is selling the UK-manufactured Paveway IV missiles that Saudi Arabia is now firing on Yemen.
'Wealth of connections'
It was a measure of Paniguian's importance to the defence industry that when he left government, the then trade minister Lord Livingston drooled: "He has been instrumental in securing major defence deals worth £10bn to the UK and has built up DSO's support for the growing cyber security sector [another of Raytheon's business areas]."
New employers usually insist that they hire ex-officials for their skills rather than for their contact books, but Raytheon's chief executive was more shameless. "He has a wealth of connections," boasted Richard Daniel, "and unrivalled experience in defence exports and will chair the board at a time when the company is pursuing a wide range of international business opportunities."
This most blatant use of the "revolving door" was approved by the government (almost certainly the business department that was then responsible for UKTI) without referral to the Cabinet Office's advisory committee on business appointments (Acoba). This was because Sir Richard's pay grade was one level below that at which Acoba's approval is required. Oddly, however, his actual salary – of £170,000 to £175,000 (plus bonuses and knighthood) – was more than £10,000 above the standard civil service maximum for the lower grade!
A turn for the suspicious
Liam Fox's new department for international trade, which subsumed UKTI after the Brexit vote, insisted Sir Richard had "adhered to all the appropriate guidelines and applications"; but it refused to say what conditions were imposed on his appointment.
Normally, even for moves that are not referred to Acoba, there would be a ban of two years on lobbying the government. Here matters take another turn for the suspicious. Less than a year after leaving government, Paniguian met the permanent secretary at the business department, Martin Donnolly – almost certainly responsible for approving his new job and now boss in Fox's new department – for a "general catch-up". Paniguian was listed on that occasion as representing C5 Capital, a new fund which invests in cyber-security businesses. He is a senior partner and the fund has other military and intelligence heavyweights, such as ex-GCHQ boss Sir Iain Lobban, among its "strategic partners". Doubtless he made sure he did no lobbying at all.



Sawers point
UNUSUALLY for a top mandarin, the business department's Martin Donnelly occasionally recorded the names of the individuals he met rather than just the companies they worked for. So we also know that in November 2015 he had a "lunch/meeting" with Sir John Sawers, who had retired as "C", head of MI6, a year earlier. According to the official record, they had a "discussion on industrial topics".
A few months before the meeting Sir John had taken jobs with BP and Macro Advisory Partners (and, since the meeting, another with PR company Edelman). In approving both positions Acoba advised that "for two years from his last day of service, [he] should not become personally involved in lobbying the UK Government on behalf of his new employers".
A prudent ex-spy chief might have thought it sensible to stay away from the corridors of power until November 2016 so there could be no question he was sticking to the conditions. As it is, the public will have to take it on trust that as they chewed the fat on "industrial topics", Sawers didn't, for example, put BP's case on any subject to the government's top business civil servant. In the secretive world of lobbying and revolving doors, however, nobody will ever know the detail of what was discussed.
More top stories in the latest issue:
YOUR LOCAL LAUNDRY
It's not just foreign crooks who use the London housing market to launder their wealth: plenty of home-grown ones do too.
TRIDENT: OFF TO FOREIGN PARTS…
Despite claims that 85 percent of the new Trident submarines' kit will come from the UK, the Successor fleet will rely hugely on foreign components.
NUCLEAR CLEAN-UP
No matter how much it costs to deal with eventual decommissioning and radioactive waste from Hinkley Point, a handful of firms are set to clean up.
CARDIFF BLUES
Why Cardiff University School of Medicine's slide down the league tables is no surprise to medics, academics or students following a 'brutal' restructuring.
SUCKER PUNCH FOR PUB LANDLORDS
Pubcos that rely on the oppressive 'beer tie' to extort inflated rents from their tenants aren't going to let a minor legal obligation stop them raking it in.
SILENCE IN COURT
Why experts who doubt the science of Shaken Baby Syndrome no longer dare give court evidence in defence of those they think wrongly accused of murder.
PROBATION: FROM INSULT TO INGEUS
Supervision of offenders in Derbyshire by Ingeus has worsened since the government privatised parts of the probation service, a damning report finds.