Why Surrey is the hardest word…
International justice,
Issue 1418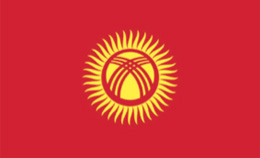 BRITS have become used to Her Majesty's consulates being utterly useless in the event of trouble abroad, but most would expect that if someone actually tried to murder them, the UK would assist foreign police.
Home Office documents obtained by the Eye suggest otherwise, however. It now appears to be "public policy" to reject such requests – at least if the assassins might have been hired by someone who is both extremely wealthy and comfortably living in Britain.
On 6 May 2012, prosecutors from Kyrgyzstan wrote to the Home Office requesting help in locating and interviewing Maxim Bakiyev, son of the former Soviet state's ex-president. Maxim's dad, Kurmanbek, came to power in a 2005 coup allegedly bankrolled by Russian oligarch Boris Berezovsky, and was overthrown in another uprising five years later. While Kurmanbek fled to Minsk, where he remains, Maxim chose the Home Counties, arriving at Farnborough airport in a private jet in June 2010. He lives in a Surrey mansion worth £3.5m, which was bought by a Belize shell company called Limium Partners shortly after his arrival.
Surgical miracle
In their letter to Whitehall, the Kyrgyz investigators referred to the attempted murder of a British businessman, Sean Daley. He had gone to Bishkek after the Bakiyevs came to power in an attempt to recover a mine the government had confiscated from its owner, Oxus Gold. In July 2006 an assassin shot him and left him for dead. He lost a kidney, and was only saved thanks to a surgical miracle. The bullet is still inside him.
After the Bakiyevs fled in 2010, Kyrgyzstan started investigating their many crimes and charged Maxim with having ordered the shooting. Hence the May 2012 letter to the Home Office. But the authorities in Daley's native Britain did not prove nearly as interested in his attempted murder as Kyrgyz prosecutors were. The Home Office didn't bother answering Senior Investigator Ismailov's letter for 18 months – and when it eventually did so, in November 2013, Busola Johnson of the Home Office dashed off a reply that managed to spell Daley's name two different ways in just three paragraphs.
"The decision has been taken to refuse your request because it is likely that its execution would prejudice our ordre public [public policy]," Johnson wrote. "I appreciate that you are likely to be disappointed. This decision was not taken lightly and was considered at the highest level." Then, as now, the highest level was Theresa May, home secretary.
The Kyrgyz authorities did not take the hint that Whitehall had no interest in investigating possible crimes committed abroad by wealthy UK-exiled foreigners, even if the victims are Brits. On 19 December 2013, Senior Investigator Ismailov valiantly wrote back. This time, he asked for help tracing the beneficial owner of Bakiyev's Surrey mansion, for information about a fraud totalling $63m, and about a $50m loan from Bakiyev to Berezovsky.
Busola Johnson appears to have decided that fobbing him off for good would require the personal touch. In June 2014 she visited Bishkek herself with – according to a British embassy press release issued at the time – the aim of giving Kyrgyz investigators "a clear account of the UK Mutual Legal Assistance regime, and the legal framework in which we work"; she also hoped to "gain a deeper understanding of the Kyrgyz perspective".
Ex-Soviet kleptocrats
But the Kyrgyz authorities maintained their eccentric legal perspective that crimes should be investigated. Courts in Bishkek have convicted Bakiyev in absentia of corruption, embezzlement and attempted murder, and sentenced to him to various terms including life imprisonment. He, needless to say, continues to live freely in the UK.
Next month the high court will begin hearing a civil case brought by Daley against Bakiyev for "serious personal injury". If Daley wins, will May's Home Office at last consent to an investigation into the Surrey fugitive? This could set a worrying precedent, considering how many ex-Soviet kleptocrats have set up home in the shires, quite how many crimes they stand accused of, and quite how much money their home countries would like to recover from them.
More top stories in the latest issue:
SUMMIT FOR NOTHING
Why the tax haven secrecy that permits extreme levels of financial crime will continue long after this week's 'global anti-corruption' summit.
PENSIONS FORM
The two 'independent' experts helping MPs unpick the BHS collapse have a lot to answer for themselves when it comes to UK pensions policy.
BEGGS BELIEF
QC John Beggs, who has been resurrecting police lies about Hillsborough for two years, calls in lawyers to try to stifle the truth about his own past.
MIDDLE EAST MISSIVE
News footage showing coalition drones attacking Isis from a secret base is a PR coup that distracts from the costly mess of the UK's drones programme.