THE retirement of a man at the age of 71 is clearly such a seismic news event it deserves the sort of treatment usually reserved for massive terrorist attacks or a royal death, and Sir Alex Ferguson's decision duly dominated last week's media.
Even the Sun's page 3 girl was shifted all the way back to page 9, the true sign of a national tragedy. But the fawning coverage of the "greatest living Briton" (© BBC political editor Nick Robinson) displays a level of Mosley-esque masochism never before displayed by the British media.
The credit for breaking the story was swiftly taken by the Daily Telegraph's Mark Ogden – who was banned from Manchester United press conferences by Ferguson last August for another perfectly accurate scoop – that Rio Ferdinand would miss the first game of the season. The paper nevertheless devoted a special 16-page supplement titled The Greatest to Ferguson, along with most of its sports section, an editorial and a front-page "appreciation" by Greg Dyke, once appreciated in the Telegraph's own pages as "the most philistine media mogul of modern times".
You're banned, you are
The Guardian outdid it with 20 pages in its own special, led by chief football writer Daniel Taylor praising Ferguson as "the last and best of his kind". Taylor was cast into the outer darkness at Old Trafford in 2007, when he had the temerity to write a book about Ferguson subtitled The Uncut Story of a Football Genius.
In its own "Salute to a Legend", the Daily Star did at least manage to acknowledge that Ferguson operated "with a gritty Glaswegian swagger that wasn't to everyone's taste" – but not to mention that this had included banning its entire editorial staff from all Manchester United events two years ago at the height of the Ryan Giggs superinjunction furore.
The Daily Mail, whose most recent in a long series of exclusions occurred in March after it ran a story about Wayne Rooney's desire to leave the club, reserved its hacks' recollections of bans and bollockings for its website, keeping the tone of its "12-page Sportsmail tribute" relentlessly positive.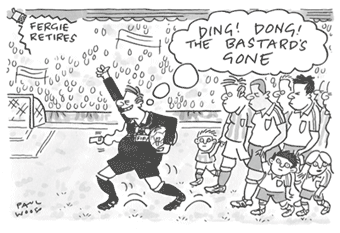 Ultimate pettiness
Sky Sports, meanwhile, cleared its schedules for no fewer than five programmes paying tribute to "the Old Trafford legend". Sadly, these did not include highlights such as the broadcaster's 2003 doorstepping of the manager to ask about David Beckham, or the moment its microphones picked up Ferguson's whispered command at a 2011 press conference that an Associated Press reporter should be excluded for asking an anodyne question about Ryan Giggs – both of which resulted in extended refusals from Ferguson to speak to anyone from Sky. In the ultimate act of pettiness, Sir Alex once lifted another press conference ban on Sky hack James Cooper, but only on condition that he wasn't allowed to sit in the front row.
Stockholm syndrome
Perhaps the most spectacular example of Stockholm syndrome, however, was displayed by the BBC. Having been sent to Coventry by Ferguson for a full seven years after daring to expose his son Jason's activities as a football agent – a ban which only ended in 2011 – the corporation found the perfect pundit to pay tribute to Sir Alex on Radio Five Live, the station which suffered the most from the ban. Step up long-standing Fergie friend and fellow Labour stalwart Alastair Campbell, the man whose rabid desire to "fuck Gilligan" over the BBC's WMD story in 2003 brought the corporation as close to extinction as it has ever been.