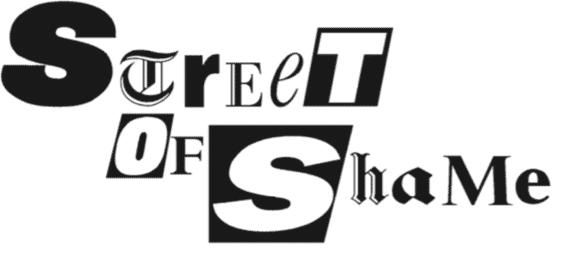 Richard 'Dirty' Desmond: A Humbuggery Special
Issue 1323

"I'M very angry at the decision to publish these photographs," declared Richard Desmond primly after the Irish edition of the Daily Star, in which he has a 50 percent stake, ran the pictures of Kate Middleton sans swimsuit.

"The decision to publish these pictures has no justification whatsoever and Northern & Shell condemns it in the strongest possible terms," he added. "Northern & Shell is profoundly dismayed at the decision made by the Irish Daily Star, which would never have been made by any of the newspapers or magazines under our editorial control."

A character called Kate 'Fiddleton' (geddit?)
So respectful is Desmond of the royal couple that he celebrated their nuptials last year by commissioning a tasteful tribute, broadcast on two of his television stations and heavily publicised in the Daily Star.

A Royal Romp featured a character named "Kate Fiddleton" (geddit?) engaging in hardcore sex with lookalikes of both Princes William and Harry, as well as a blonde woman purporting to be the latter's ex-girlfriend Chelsy Davy, in the presence of lookalikes of Prince Charles and the Queen.

"We have chosen to put A Royal Romp on both Television X and Red Hot TV across the Friday and Saturday of the Royal Wedding bank holiday weekend to make sure as many people as possible get a chance to view," announced Desmond's head of programming Chris Ratcliff.


Totless photographs

BAUER, publisher of the UK edition of Closer magazine, was swift to distance itself from the title's French edition.

"Closer France is published under licence by Italian business Mondadori, and Closer UK would like to make it clear that the two publications make entirely independent editorial decisions," the company announced as the inevitable internet backlash built up last Friday. "Closer magazine UK takes its obligations under the PCC Code extremely seriously and would never publish topless images of a member of the Royal family."

So respectful is the UK magazine of people's privacy that its cover last week was devoted to "exclusive" speculation as to whether "Posh's Bump Riddle" meant she might be in the early stages of pregnancy, whether Cheryl Cole could be attempting to conceive, and whether a photograph of actress Jennifer Ellison proved she was failing to keep to her diet.


Mirror's image problem

"THERE is something very admirable in Prince William's determination to protect the privacy of his wife," declared the Daily Mirror last weekend.

"The young couple are showing maturity, or their Palace advisers are, in realising they must make a stand against a French Peeping Tom celebrity gossip magazine… A long lens prying on Kate sunbathing topless on a private estate is a clear breach of this right."

As several other media outlets managed to note over the weekend, one of the legal precedents in this case is the £1.2m paid by, er, the Daily Mirror after it published photographs of William's mother Diana exercising in a gym, taken with a hidden camera. Did this deter the paper from claiming the moral high ground? Did it heck.

"Lord Leveson may care to note that an officially regulated French press is the transgressor, while the self-regulating British papers are respecting the Duchess's privacy," its editorial loftily intoned.


Rogue mail

"THE pictures were taken on private property using cameras with extremely long lenses, which means no British newspaper would publish them," the Daily Mail pointed out on the day the Closer shots were printed.

Really? The same criteria apply to a series of fuzzy shots of model Heidi Klum relaxing on a beach with her children which were published by, er, the Daily Mail at the end of August. Indeed, the paper acknowledged as much by describing them as showing an "intimate family holiday" and "a seemingly private chat" between Klum and her new partner, leaving little doubt that these were circumstances under which she had what the Press Complaints Commission calls "a reasonable expectation of privacy".

But then the Mail – which unequivocally banned the use of all paparazzi photos in a front-page promise after the death of Diana – has never been known for its consistency. Last weekend the lead story on its website was the outrage over the Kate photos. Directly adjacent were no fewer than seven stories based on paparazzi photographs of celebrities going about their day-to-day business, three of them with children under 10 in tow.


Sun stroke

"KATE: It's pure greed," screamed the front page of the Sun last Sunday as it condemned the Irish Daily Star on Sunday for publishing the topless photos. "Prince William's wife is entitled to feel fury and disgust," it opined, "at those lowlife rags printing pictures of her topless."

This is clearly quite different from the Sun's altruistic decision to publish naked photos of Prince Harry in Las Vegas two weeks earlier, when every other British newspaper declined to print them.

"The Prince Harry pictures are a crucial test of Britain's free press," the Sun explained on 24 August. "It is absurd that in the internet age newspapers like the Sun could be stopped from publishing stories and pictures already seen by millions on the free-for-all that is the web. It was vital for us to run them."

For although the much-discussed Harry photos were already a mouse-click away for the 77 percent of British households with internet access, "the many millions of people who get their news in print, or have no web access, could not take a full part in that national conversation because they could not see the images".

No "pure greed" there: just selfless, heroic generosity.
More top stories in the latest issue:
ANOTHER CUNNING STUNT
Purported billionaire James Stunt has suffered defeat at the high court in the war to stop newspapers being allowed to write about rich businessmen
HUFFING AND PUFFING
More shameless commercial plugging from the Telegraph, with Gareth Bale being invited to give the lowdown on his mattress sponsors in an interview.
LEVY LEAVES
Daily Mail hack Geoffrey "Lickspittle" Levy, best known for his hysterical attack on Ed Miliband's father, has been quietly put out to pasture.
SPARE TYRER
Sunday Times executive editor Bob Tyrer has taken to concocting strange corrections to maintain his toe-hold on the Corrections & Clarifications box.
WHAT A HALLS-UP
Another victory for Sun TV editor Andy Halls, who was responsible for a grovelling apology the paper had to make to Sky presenter Kirsty Gallacher.
IN THE COURTS
The legal eagles who were shot down by Mr Justice Warby as he refused Katie Hopkins leave to appeal his judgment that she had libelled Jack Monroe.