Non-core pawn
Huawei, Issue 1495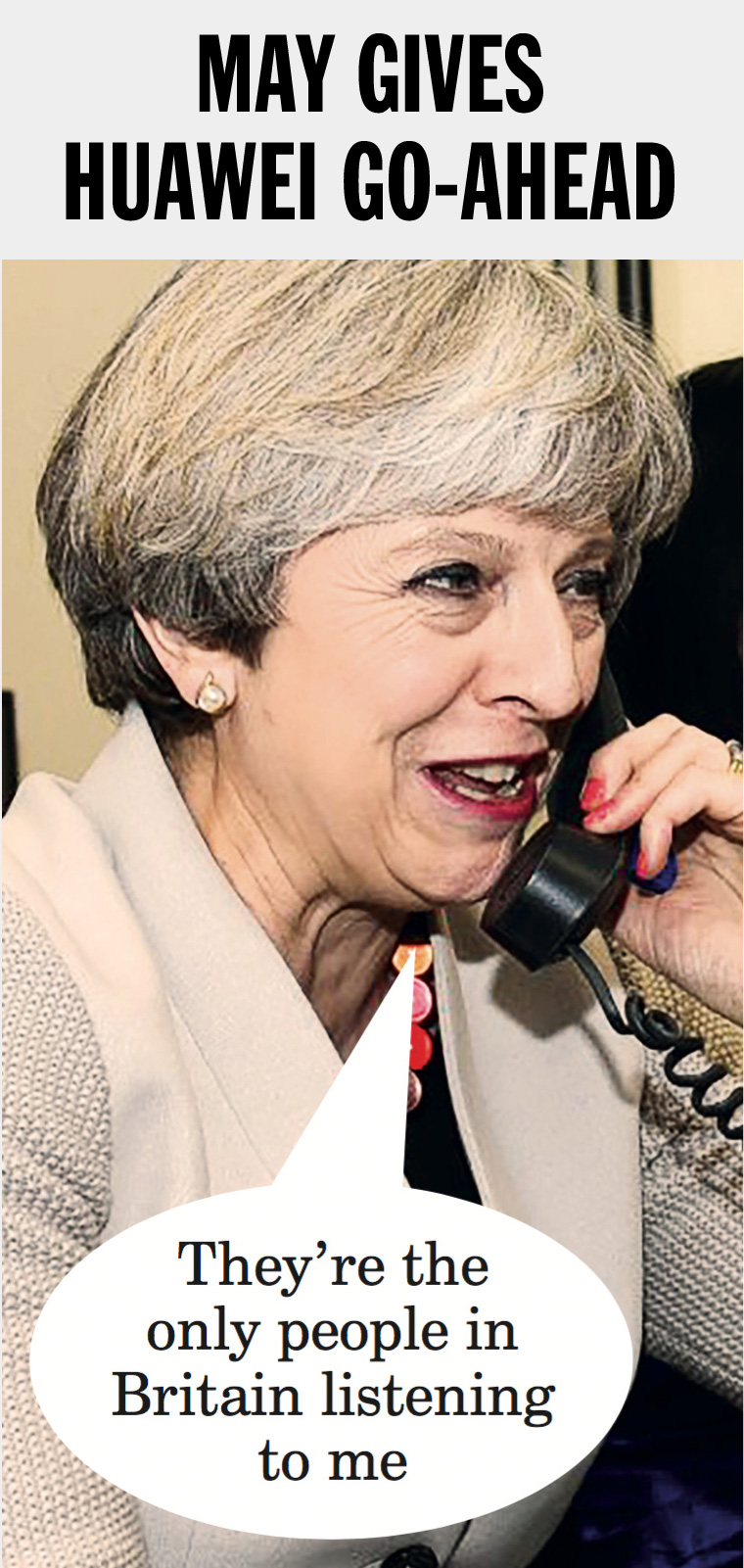 LEAKED details of the National Security Council meeting at which Theresa May decided to let Chinese telecoms firm Huawei build supposedly "non-core" parts of the 5G network showed how commercial considerations trump all else in Brexit Britain.
Visiting China in February last year the prime minister announced £3bn of spending by Huawei in the UK, which her international trade secretary Liam Fox declared "another significant vote of confidence in our world-leading tech industry". Since then, Huawei's chief financial officer has been charged in the US with fraud and sanctions violations, and other evidence of cyber-crime has emerged, such as stealing information from T-Mobile.
Cyber security
Yet, with reports of business secretary Greg Clark and chancellor Philip Hammond supporting May last week on the question of Huawei and 5G, immediate financial considerations evidently won out. As for the distinction between "core" and "non-core", this is thought more convenient than real.
The security issue is serious. Just last month the government oversight board which monitors Huawei's cyber security found a number of "concerning issues". It could give "only limited assurance that the long-term security risks can be managed in the Huawei equipment currently deployed in the UK".
Explaining that "the UK's mitigation strategy for the use of Huawei equipment… expects industry good practice software engineering and cyber security development and support processes as a basis", the board reported that "Huawei currently does not meet that basic expectation". New equipment "will make that risk management even harder".
'Run towards China'
Earlier in April, parliament's foreign affairs committee, chaired by former army intelligence officer Tom Tugendhat MP, expressed "considerable grounds for concern about Huawei's involvement in the UK's 5G infrastructure". Yet, despite what appear to be security risks in a company that is at the mercy of the intrusive Chinese state, the prime minister is clearly unwilling to let Beijing down – as the US and Australia have done by rejecting it for 5G work. In this, May continues a decade of kow-towing by predecessors, notably David Cameron and George Osborne, who said Britain "should run towards China".
Huawei's strategy of inveigling itself into the British establishment seems to be paying dividends. The company's UK chairman is former non-executive director at the Cabinet Office and ex-BP boss Lord Browne, while former trade promotion head Sir Andrew Cahn also sits on the board and ex-government chief information officer John Suffolk is now Huawei's "global cyber security and privacy officer".
More top stories in the latest issue:
SIR HUMPHREY-DUMPTY
How far will Cabinet secretary and national security adviser Mark Sedwill go in his Huawei leak inquiry if it means embarrassing his political masters?
MAKING A MOGGERY
Rees-Mogg siblings Jacob and Annunziata haven't always been opposed to second referendums, it turns out.
COAD OF ETIQUETTE
Why Kensington MP Emma Dent Coad's dig at the posh credentials of Change UK candidate Rachel 'Two Agas' Johnson is all a bit rich.
SHORT TROUSERERS
The 'priority investors' who got an especially good deal when Royal Mail was privatised – and showed their gratitude by shorting the stock before it tanked!
BRIDGING THE GULF
Despite UAE's persistent jailing of Britons on trumped up charges, when its ministers flew into London last week, it was all smiles and smarmy trade talks.
COURT CIRCULAR
From Buckingham Palace to Downing Street, the announcement of Donald Trump's state visit this summer has been one long cluster-bungle.
TUC NEWS
Unite's Len McCluskey reacts testily when his union is accused of failing in its duty of care to a female employee who suffered gender-related harassment.
PRISON NEWS
The ballooning number of Albanian nationals in UK prisons suggests the transfer arrangement between the two countries is not for purpose.