A nasty surprise for the Brexit secretary
Brussels Sprouts,
Issue 1425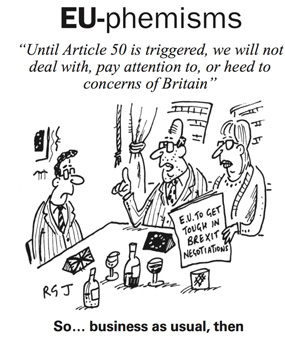 ONE of the nastier surprises waiting for Brexit secretary David Davis when negotiations finally start next spring will be what to do about Britain's Eurocrats.
For the 73 MEPs and their staff, things are relatively straightforward: as soon as Britain is out of the EU, they get their P45s. For the 1,500 or so Brits working for the European Commission, European Council or European parliament, who have passed the "concours" entrance examinations and thought they had a job for life as EU civil servants, it's more complicated.
EU staff regulations suggest they could be forced to leave because they will no longer fulfil the eligibility criteria of being EU nationals. Some staff may try to get around this by taking Belgian or Irish citizenship. But the three unions representing Brussels staff are already lobbying for the UK to pay its share of the EU's estimated €60bn (£50bn) in pension obligations, on behalf of around 3,000 UK officials who have been part of EU institutions since the 1970s. They will soon be put into battle to defend current officials. EU staff unions have a reputation for militancy and have Brits like Simon Coates, of the Fédération de la Fonction Publique Européenne, at the top.
Severance packages
Nor can Davis expect much support from the UK's own GMB union, which has more than 100 members in its Brussels branch, which falls under the remit of its south-east region. A majority of GMB Brussels members are now staffers in the EU institutions.
European parliament president Martin Schulz has promised British staff in the assembly that their jobs are safe. The commission still pays the wages of four Norwegian officials and an Icelander who were hired when the two countries began their (eventually aborted) negotiations to join the EU.
The UK will either have to fund salaries and pensions for British nationals on the payroll, perhaps for 30 years or more depending on their age, or buy out the contracts. Those with career ambitions will want to be bought out and get other jobs in Brussels or back in Blighty. For those who want to stay, the mother and father of all severance packages awaits.
More top stories in the latest issue:
LUCKY STRIKES
Why the break-up and privatisation of British Rail in the 1990s in fact worked wonders for many rail union members.
STORM IN A CHINA TEACUP?
You don't need to own or run a nuclear power station in the UK to threaten its electricity supplies. In a web-dependent world, that threat exists already.
WHITEHALL-WASH
It's no surprise so many government files remain secret for so long given who sits on the body representing the public interest on disclosure.
NINJA NIGHTMARE
The NHS's Strategic Projects Team, its internal 'ninja' privatisation unit, is finally for the chop after another costly cock-up.
EYE TOLD YOU SO
As the Eye predicted, Crapita's £330m deal to provide primary care support across the UK is attracting serious complaints from doctors and others.
BANKS DRAFT
Discredited hack Isabel Oakeshott, co-author of the risible Call Me Dave, is now ghosting a book on the EU referendum for Ukip donor Arron Banks.
KING'S RANSOM
Mervyn King, scourge of excessive City pay as governor of the Bank of England, picks up an advisory job with excessively-generous Citigroup.
COURT CIRCULAR
David Cameron politicises the Companion of Honour order further with his gift to George Osborne, as the Queen struggles to find Knights of the Garter.