The ropey dopes of amateur boxing
Rio 2016,
Issue 1419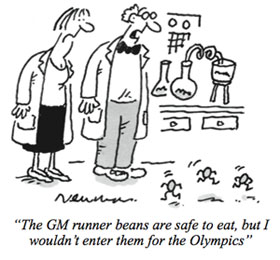 ANOTHER sports doping scandal is about to break, causing yet more grief for the International Olympic Committee as it prepares for the Rio games. This one involves Aiba, the sleazy governing body for international amateur boxing.
Last December staff at Aiba's head office in Lausanne admitted to inspectors from the World Anti-Doping Agency (Wada) that they had conducted virtually no out-of-competition tests in the past three years and none at all last year, the pre-Olympics year. The inspectors' subsequent 27-page report, now seen by the Eye, is damning.
"Aiba has over the past several years implemented a very limited anti-doping program which fell considerably short in not only meeting the requirements of the World Anti-Doping Code but also in protecting the sport and its clean athletes from the risk of doping," it says. "Aiba's out-of-competition testing program has almost been non-existent for the past 3 years for which a total of 19 samples were collected (18 in 2013, 1 in 2014 and none in 2015). This is the lowest of any of the 28 Summer Olympic sports."
Financial scandal
Since gathering information and intelligence is essential for effective testing, the inspectors were shocked to find that "Aiba has no structures in place to collect or process this information". After listing other "high-level shortfalls" they conclude: "It is strongly advised that Aiba consider with urgency a strategic and operational anti-doping plan that will work towards Aiba meeting the compliance requirements of the Code and the International Standards". In short, Aiba does not comply. If the president of Wada, Scotland's Sir Craig Reedie, who is also a vice-president of the IOC, chooses to make this report public, it's hard to see how Aiba can take part in the Olympics in three months' time.
As if that weren't enough, Aiba is also beset by financial scandal. The Eye has seen a "strictly private and confidential" 39-page report from the forensic division of accountants PwC, commissioned secretly, which reveals that millions of dollars have been withheld from the annual accounts.
During their investigation, melodramatically codenamed Project Tiger, the PwC sleuths found that in 2010 Aiba's president, Ching-Kuo Wu, signed a $10m "loan agreement" with an obscure Azerbaijani company owned by Kamaladdin Heydarov, who used to be in charge of the corrupt Azeri customs service and now runs a business empire ranging from construction to tourism while serving as his country's "minister for emergency situations".
Breach of the criminal code
Heydarov has, according to PwC, "a non-straightforward reputation in the market". But then so does Aiba: the accountants note that the loan "was not properly disclosed in the financial records of Aiba", in breach of the Swiss criminal code. The $10m loan was due for repayment in November 2013 and has run up interest of $498,000 but the Azeris show no interest in repayment, seeming more concerned about how their boxers do in Rio. There has been no complaint from Aiba's finance and audit committee, possibly because President Wu disbanded it.
The loan was supposed to kick-start a World Series Boxing competition in America under Aiba's auspices. Four WSB companies were set up – but $1m then "disappeared" to Mexico. Wu insists he "has not had a centime", but it's hard to know where the money did go because PwC could not find invoices or "supporting documentation" for $4.3m of payments. It notes that apart from Wu, "no other member of the executive management of Aiba and its affiliates, including the accounting staff, was aware of the terms of the loan and in particular Aiba's position as guarantor". That changed only last June, when Aiba's former executive director Ho Kim "raised some allegations of irregularities".
PwC says Aiba must urgently "restate" its accounts for the past six years. "It is recommended to subject all companies or operations of Aiba to external audit… Consolidated financial statements will present the true and actual financial position of Aiba."
Major league heroin trafficker
Astonishingly, the Aiba vice-president responsible for WSB, personally appointed by Wu two years ago, turns out to be Gafur Rakhimov, who has been identified by US authorities as a major-league heroin trafficker and "one of the leaders of Uzbek organised crime" (Eyes 1195 & 1388). Rakhimov, currently based in Russia, had hoped to be inducted into the IOC elite by its former president, the fascist Juan Antonio Samaranch. But in 2000 he was banned from the Sydney Olympics on the advice of the FBI, "for the safety and security of the Australian community".
In 2012 the US Treasury froze Rakhimov's bank accounts worldwide, and a year later it officially named him as "a key member" of the Circle of Brothers, a Eurasian crime syndicate. He made more headlines two years ago when ABC News in New York alleged he had bribed IOC members with "bags of cash" to give the Winter Olympics to Russia. A Rakhimov spokesman denied the bribery but confirmed that he had used "great influence" to win votes for Russia. Then, in July 2014, the US Treasury repeated its drug-trafficking allegations. Four months after that, Wu hand-picked him to be a vice-president of Aiba.
Wu also sits on the IOC's executive board. Can IOC president Thomas Bach really continue to ignore the stench emanating from Aiba?
More top stories in the latest issue:
SELECTIVE HEARING
David Cameron and George Osborne ignore expert opinion and press on with their misguided plan to sell off the Land Registry.
HACKING UPDATE
Thanks to Mr Justice Mann, phone-hacking litigation against the Sun is continuing to inch its way through the courts.
LEADSOM BALLOON
Outer Andrea Leadsom, the energy secretary who's signed the UK up to super-costly nuclear electricity, talks balls about lower bills post-Brexit.
FOX HUNTING
Rumours of Liam Fox's return to cabinet to heal Tory rifts make no sense given his financial backing from PM-baiting Lord Ashcroft.