Sorry is the hardest word...
PwC Oscars,
Issue 1439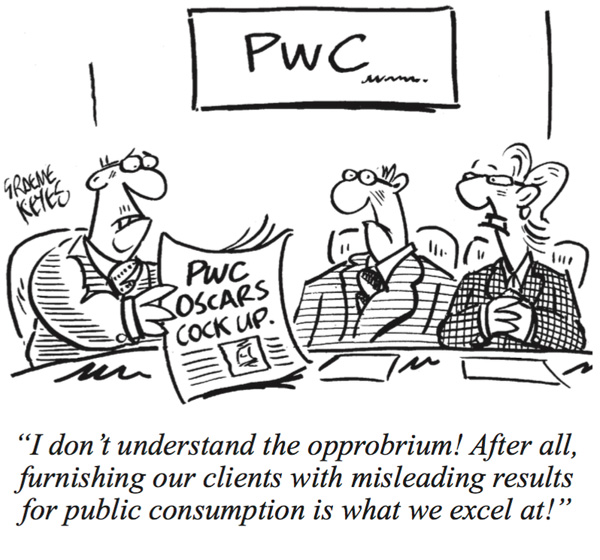 "WE SINCERELY apologise to Moonlight, La La Land, Warren Beatty, Faye Dunaway, and Oscar viewers," squirmed a PricewaterhouseCoopers spokesperson, "for the error that was made during the award announcement for best picture." The two accountants directly responsible were duly dropped from future events.

Alas, such contrition is unusual from the bungling beancounters. Among the firm's contributions for which it has yet to say sorry are:

Best international tax avoidance scheming
For years PwC ran a tax avoidance factory in Luxembourg that cost governments around the world tens of billions of pounds in lost revenue, helping firms like Vodafone, Pepsi, IKEA and others avoid their dues. When the tax-dodging factory was exposed by whistleblowers (and first reported in the UK by the Eye) in 2012, the firm pursued criminal prosecutions against them. A recent TV documentary by France's Premieres Lignes revealed how the firm obtained a warrant to search one of the whistleblowers' computers for contacts with a journalist, in contravention of laws protecting press freedom. Unlike the American PwC partners messing up the envelopes, the beancounters behind the scheme have prospered. PwC's head of tax in Luxembourg remains in place, as does its UK tax boss Kevin Nicholson, despite the UK parliament's public accounts committee finding that the affair showed that he had earlier misled them by claiming his firm didn't sell tax avoidance schemes. The senior partner who presided over the UK end of all this, Ian Powell, was recently knighted.

Best blind-eye turning on a major audit contract
In 2007 the reckless Northern Rock had to be bailed out by taxpayers after its auditor PwC had said nothing about its risky financial condition, while earning more from advising the bank on the securitisation deals that were sustaining the illusion of financial health. The beancounters failed to discuss the bank's affairs with the regulators, as the law required them to, and were described by a House of Lords committee as "disconcertingly complacent". The peers were "astonished that PwC appeared not to recognise an amber light that flashed so brightly".

Best beancounting double standard
PwC's US arm came under heavy criticism after its pre-crisis era auditing of Goldman Sachs and insurance company AIG was exposed by a financial crisis inquiry commission. The companies were on either end of billions of dollars' worth of "credit default swaps". For their own purposes, each valued the same instruments completely differently. And each received the all-important sign-off from PwC.

Best supporting act in an accounting cock-up
PwC is currently being investigated by regulators over its role in the Tesco accounting fiasco, which resulted in a £263m restatement of the company's accounts in 2014 and over which three Tesco directors have since been charged.

Best milking of the taxpayer
PwC has been the most active of all financial advisers on private finance initiative schemes, including some of the most ruinously expensive. It advised Barts NHS trust (which runs St Bartholomew and the Royal London hospitals) in signing up to a £1bn deal that now costs the hospital £120m a year as it runs up annual deficits of a similar amount based on flawed value-for-money calculations. The trust's chairman at the time said: "This is what got Enron into trouble. It's all off the balance sheet. It's cloud cuckoo land, Alice in Wonderland stuff." Asked by MPs a few years ago if he would reveal how much his firm had made on its hundreds of contracts, the firm's PFI supremo Richard Abadie replied: "Probably not. I believe that is commercially confidential."

Best screwing of small business
The Eye has long reported the story of Yorkshire businessman Keith Elliott, who is suing PwC after the firm came in to advise his car auction business and quickly helped it into administration, from which a lucrative contract as administrator went to… PwC. The accountancy firm recently contested the liquidator's right to sue it using litigation funding, but had its argument dismissed by a judge as "extremely weak, if not unfounded" (Eye 1431). None of which, of course, is as serious as slipping the wrong envelope to a Hollywood star…
More top stories in the latest issue:
HORSE TRADING OVER ARMY CUTS
Troopers suspect their days are numbered after their state-of-the-art barracks are deemed unsuitable for horses.
FIRE AUTHORITY WITH MONEY TO BURN
How Yorkshire's chief fire officers have claimed for hundreds of hours of "in lieu" time after they were told to return overtime payments.
SLEUTHS IN A STEW
Credibility crisis for the private detectives' regulator following email hacking allegations against its chair.
FINE TIMES AT COUTTS
The bank that holds the Queen's account has been fined by Swiss authorities over the Malaysian money laundering scandal, but there's still no action from British regulators.
IT'S PLAYCRIME!
How primary school playground space is being built over – or not provided in the first place.
CHINA SERVICE
Chinese state controlled Confucius Institutes increasingly dominates Mandarin learning in the UK, despite global worries about their teaching and hiring practices.
COURT EXPERTS
Dodgy psychologist Graham Rogers is back in action, cocking a snook at the UK's feeble health professionals watchdog.
PESTICIDES: NFU HAS A PLAN BEE!
As the UK's National Farmers' Union gives evidence backing its chums in the pesticide industry, crop analysts say the oil seed rape harvest has bounced back without neonicotinoids.