Mandarins make good
Revolving Doors,
Issue 1432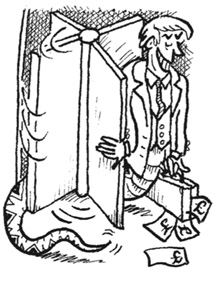 AFTER another contentious spin of the Revolving Door between Whitehall and the private sector, HM Revenue & Customs' director of business tax has been hired by law firm Pinsent Masons to be legal director in its "Contentious Tax Department".

Until 10 April this year Andrew Scott was HMRC's leading lawyer with responsibility for "legal advice for all aspects of business tax". On 11 April, gamekeeper then turned poacher to help Pinsent Masons' business clients cope with the "more aggressive approach to tax planning from HMRC".

Scott's move emerges in the latest government register of Business Appointment Rules for civil servants who aren't quite senior enough to have their new jobs vetted by Acoba, the toothless and useless advisory committee on business appointments (Eyes passim ad nauseam).

Pinsent Masons was already crowing
The government only announced Scott's move this month, but Pinsent Masons was already crowing back in April: "Andrew's appointment is a real coup… The taxation of large businesses is becoming increasingly contentious… Andrew provides an additional perspective to help ensure we achieve the best results for our clients when trying to manage risk and avoid disputes." Hm. When it comes to tax, the best result for HMRC is to collect more. The best result for Pinsent Masons clients is to pay less.

HMRC said Scott was "precluded from using personal contacts in HMRC to gain special access to the development of tax policy [and] for a period of 2 years, unable to draw on privileged information obtained as a crown servant". But as regular Eye readers know, there is no obvious mechanism to enforce the rules.

The latest appointment announcements cover senior civil servants on "grades 2 and 1" (SCS2 and SCS1) – the directors and deputy directors who sit third and fourth from the top of their departments.

Should not draw on privileged information
The Cabinet Office's Ed Welsh, who as director of transformation had promoted new privatisations, became a strategic adviser in January 2016 to Civica, which runs IT services for local authorities, the Home Office, Ministry of Justice and Department of Health. "His extensive knowledge and experience will help advance our clear vision and strategy as we continue to expand our position in the government sector," said Civica's chief executive. The Cabinet Office said: "Ed should not draw on privileged information available to him as a Crown servant" in his new role. No, of course not. In July, Tim Banfield, who was "Director of Strategy, Infrastructure and Projects Authority", became a consultant at The Nichols Group which has many public sector contracts, offering management consultancy to the Nuclear Decommissioning Authority and the Sellafield atomic site, among others.

Over at the Department for Work and Pensions (DWP), Patricia "Pat" Russell was a deputy director with responsibility for disability and employment until 25 June. On 27 June she joined APM-UK, the British arm of "Australia's largest provider of disability employment services". She was hired just as APM is trying to expand its government contracts in the UK, becoming a prime player in the Work Programme after buying up Pertemps, which had the contract. APM's UK chief executive Alan Cave, himself a former top DWP civil servant, praised Russell's "deep expertise, extensive networks and credibility across government and beyond".

Helping Capita win public sector call centre contracts
In July Andrew "Andy" Ralphs switched from being the DWP's "head of digital service centre transformation for Universal Credit" to become head of customer services at Crapita. Ralph was in charge of DWP call centres and is now helping Capita win public sector call centre contracts, although in local rather than national government.

Steve Nathan also left his job at the DWP this summer as director of technology to become an adviser on, er, "people and change consultancy" for KPMG, which wins many "people and change" jobs from the government. Like Ralphs, Nathan had responsibility for aspects of the troubled Universal Credit system.

Upping sticks from the Treasury, meanwhile, was David Allen, director of public spending, who in March became a managing director at PWC. His government job involved driving public spending cuts and "efficiency", areas where PWC wants government contracts. The Treasury says: "David was removed from a tendering process before he left the Civil Service" – presumably because it was a contract PWC wanted to win.
More top stories in the latest issue:
HERE COMES THE BRIBE
The shady operators given taxpayer support by UK Export Finance as the government makes it easier to win backing for dubious contracts.
PASSING THE BUCK
Government failure to pursue huge sums of unpaid child maintenance leaves families trapped in poverty.
SUM MISTAKE SURELY
Primary school cuts classroom assistant while paying wads to a maths consultant who is married to the headteacher.
PRIZE CHUMPS
Does your prize ceremony deserve a prize? Conference firm launches awards for awards.
WYE-OH-WYE VALLEY
As bankrupt hospital chair steps down, the new man in the job has a worrying track record on waiting times.
SUB STANDARD
The Navy announces its departure date from Rosyth, but it will be leaving its nuclear waste behind.
WHITE OUT
Custody sergeant who faced prosecution over death in Brixton police station is cleared of perjury and returns to duties.
FARMING DATA
Essex police are forced to disclose internal documents about the investigation into a suspicious death on a farm linked to drug and gun crime.
LONG WAVE?
The new emergency services communication system will be far cheaper than Airwave but will it be ready on time? And will it work underground?