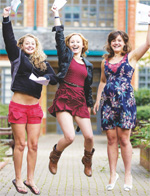 Only In The Magazine
'No Boots on Ground' as Army No Longer Has Functioning Boots… David Caesar Welcome Brutus Johnsonius Back to His Team… Seventeen Ways Mainstream Media Misrepresent BuzzFeed as a List Site… 'We're Bitter Together' – Best Jokes from Scotland's Festival of Fun… Fruity A Level Girls Jump 10% Less High on Front Pages than Previous Years… That Denis MacShame Prison Diary in Full.

And also...
- Stat attack: BBC's statistics expert forced to backtrack over Gaza casualty statistics
- SuicideWatch: Editor's code torn up as papers report the death of Robin Williams
- Doom & loom: From harmless craze to cancer warnings: how the Mail went potty
For all these stories you can buy the magazine or subscribe here and get delivery direct to your home every fortnight.
Next issue on sale: 2nd September 2014.