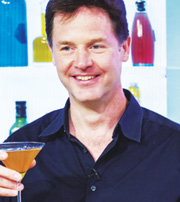 Only In The Magazine
John Sweeney loses temper with 'Managementologists'… PHWOAR! What a Reshuffle!!… The Seven Stages of Grieve… Nick Clegg's Saturday Kitchen Cocktail: The Flaming Idiot… How to throw a party for a one-year-old Royal baby… England Sportsmen set 'Bad Example'… Memories of Test Match Special, with Henry Blofeld and Peter Baxter, as told to Craig Brown

And also...
- Telegraphic Details: Former hack convicted of rape and other sex offences.
- How Authors Relax: A one-upmanship summer special
- Alive & Shipping: Scene and Heard watches live animal exports at Ramsgate
For all these stories you can buy the magazine or subscribe here and get delivery direct to your home every fortnight.
Next issue on sale: 5th August 2014.