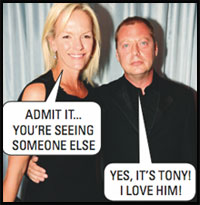 Only In The Magazine
Demon confesses to 'inner Tories'… Joy in Africa as First White People Get Ebola... Story in newspaper not lifted from Cheltenham Festival… Toad and Friends Driven out of Wild Wood… Kevin Pietersen: An Apology… Dreary's photo casebook: The Freud marriage has communication problems… John Cleese's Diary, as told to Craig Brown.

And also...
- Trial of the Century: Postscript: Rebekah Brooks withdraws her application for costs.
- Keeping the Lights On: Why the new Hinkley Point plant is wallet-bogglingly good news for EDF.
- Dead Reckoning: Sceptics v Psychics.
For all these stories you can buy the magazine or subscribe here and get delivery direct to your home every fortnight.
Next issue on sale: 28th October 2014.