COVERS LIBRARY
Viewing: Christian Barnard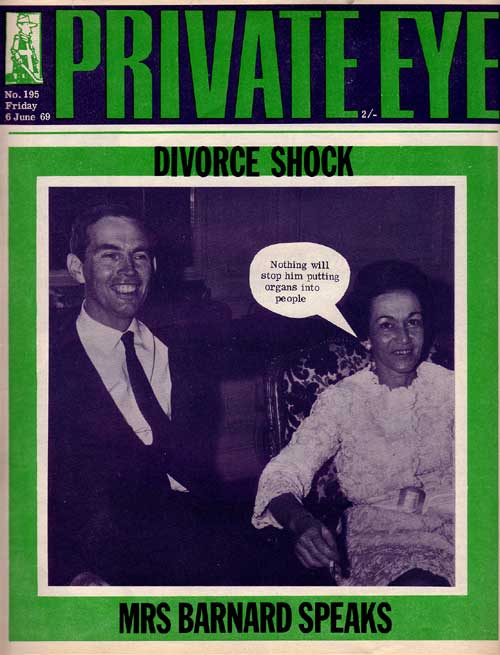 Christian Barnard
June 1969
Issue 195
This Private Eye covers library has been transferred over from the website Ugandan Discussions. All covers and material are the copyright of Private Eye. Please email repro@private-eye.co.uk in advance for reproduction permission and details of our charges.
MORE FROM PRIVATE EYE
ONLY IN THE MAGAZINE
In This Issue
Venezuela Demands UK Holds Election as Mayduro Clings On… See Through Project Fear With Gnomemart's New Brex-Ray Specs… Queen's Appeal for Calm Provokes Twitter Fury… 'We Managed Just Fine in the War,' Say People Who Weren't There… Newspapers Stockpile Thousands of Brexit Scare Stories Before 29 March… Idiot in Millets Anorak Solves Brexit by Telling MPs: 'Just Get on With It'... Peter Hitchens: My Life in Film, as told to Craig Brown
It's UnfAirBnB!
The downside of short-term rentals
Buzz kill
Why BuzzFeed is in meltdown
Brexit chaos
Government signs a £15bn temps deal
Read these stories and much more - only in the magazine. Subscribe here to get delivery direct to your home and never miss an issue!
ONLY £2.00
SUBSCRIBE HERE
NEXT ISSUE ON SALE
19th March 2019
WHY SUBSCRIBE?