COVERS LIBRARY
Viewing: O J Simpson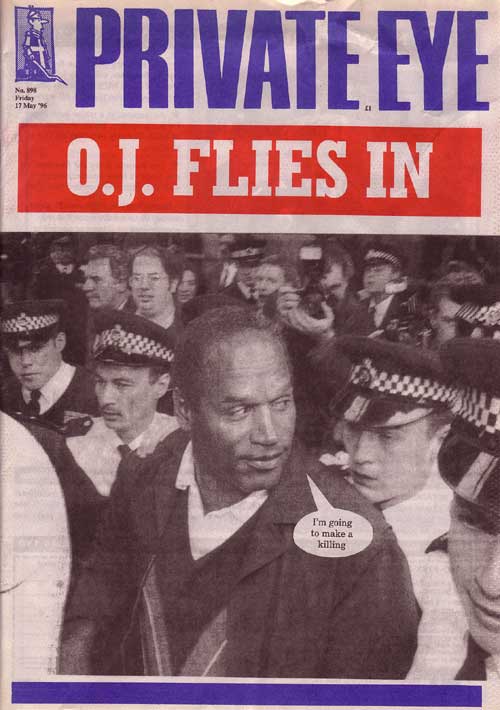 O J Simpson
May 1996
Issue 898
This Private Eye covers library has been transferred over from the website Ugandan Discussions. All covers and material are the copyright of Private Eye. Please email repro@private-eye.co.uk in advance for reproduction permission and details of our charges.
MORE FROM PRIVATE EYE
ONLY IN THE MAGAZINE
In This Issue
Parliamentary privilege not used – MPs bravely don't name themselves… Britain to continue selling brimstone to hell… Trump blames media for stoking violence… Halloween killer fury over inappropriate language… Billy Goat Gruff shot by Wicked Witch… World's oldest metaphor found at bottom of sea… Alan Yentob meets Tracey Emin, as told to Craig Brown
Rags and Gags
How the press covered the Philip Green affair
Crock and Roll
Publishing invests in the Heritage Rock market
Egypt Watch
The UK and EU quiet about mass death sentences
Read these stories and much more - only in the magazine. Subscribe here to get delivery direct to your home and never miss an issue!
ONLY £2.00
SUBSCRIBE HERE
NEXT ISSUE ON SALE
11th December 2018
WHY SUBSCRIBE?