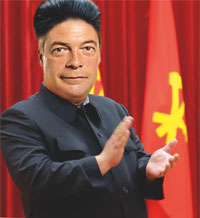 Only In The Magazine
Ukip's Supreme Leader Purges Rivals: North Korean Times Exclusive!… Heist thieves not arrested: bankers avoid jail… Homophobic Russia Celebrates Eurovision Success… Qatar Builds State-of-the Art Prisons for World's Media… Captain of Lib Dem Titanic to be Given Key Role… Those Extremist TV Highlights Mrs May Wants to Ban… The Letters of Bernard Berenson & Kenneth Clark, as told to Craig Brown.

And also...
- A Private Eyeful: We've increased the type size to improve legibility… and added more pages, more stories, more jokes and more cartoons! In fact the only thing NOT going up in the new 48-page Private Eye is the price . It's still only £1.80 (or less if you subscribe).
For all these stories you can buy the magazine or subscribe here and get delivery direct to your home every fortnight.
Next issue on sale: 9th June 2015.