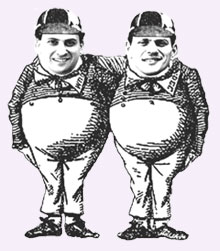 Only In The Magazine
The Eye Declares: Vote Now Before It's Too Late!... Michael Gove Launches New 'Free Prisons Scheme'… Jubilant Nation Celebrates VE (Victory over Ed) Day… It's All Over for Dum But What About Dee? Nursery Times Exclusive… Public Vote to Kill Monkey and Elect Organ-Grinder… Post-Election Gnomemart Fire Sale!... George Galloway to Sue Everyone Who Didn't Vote for Him… Princess Charlotte – A Twitter Festschrift, as told to Craig Brown.

And also...
- Election 2015: Hello (and good riddance) to new (and old) Commons faces
- Spirit of Blair: Mr Tony's ghost and Labour's wannabe leaders
- Royal birth: Baby tips from Auntie Pippa, Sarah Vain and Sir Andrew Roberts-Radio
For all these stories you can buy the magazine or subscribe here and get delivery direct to your home every fortnight.
Next issue on sale: 26th May 2015.