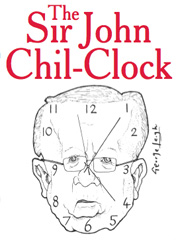 Only In The Magazine
The First 100 Days of the Corbyn Premiership: Daily Mail Exclusive… Those Disillusion Honours in Full… Corbyn Proposes 'Train Carriages'… Press Office Issues Picture of PM Not on Holiday… Top Scientist Comes Up With New 'Pooh Sticks' Formula… Summer Gnomemart

And also...
- How to speak Corbyn: A headline-writer's guide to twisting a politician's words
- Inside Iran: Philip Hammond ignores human rights worries as the British embassy reopens
- PLUS: Dissolution honours roundup; cracks in Caracas; and Atos in a mess again.
For all these stories you can buy the magazine or subscribe here and get delivery direct to your home every fortnight.
Next issue on sale: 15th September 2015.