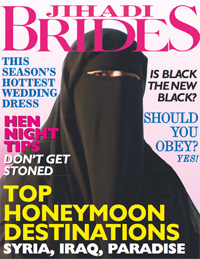 Only In The Magazine
'Why Weren't the Churchgoers Armed?' asks NRA… Greece on brink of being on brink of brink… He was a great man! Napoleon on the myth of Andrew Roberts… 'All Men Are Paedos' Shock – Mail Exclusive… Georgie Porgie Sacked Over Sexist Remark, says Nursery Times… Jihadi Brides – New from Condé Nasty… Chris Evans' Diary, as tweeted to Craig Brown.

And also...
- Sporting first: A whole page (yes, really!) of unsporting Eye sports news
- Offshore islands: The vast tracts of Scotland owned in secretive tax havens
- Plus: Bigger type, more jokes, journalism and cartoons in the newly-expanded magazine
For all these stories you can buy the magazine or subscribe here and get delivery direct to your home every fortnight.
Next issue on sale: 7th July 2015.